We are currently reviewing proposals for site-specific installations and projects that could be funded through our grant from ArtPlace America. The next deadline for submitting proposals for review is November 30, 2014, and you can apply online.
Submit your proposal
recently from the blog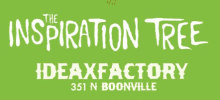 Money doesn't grow on trees, but inspiration can!
Join us on October 3 during the First Friday Art Walk from 6-10 p.m. for an interactive art …