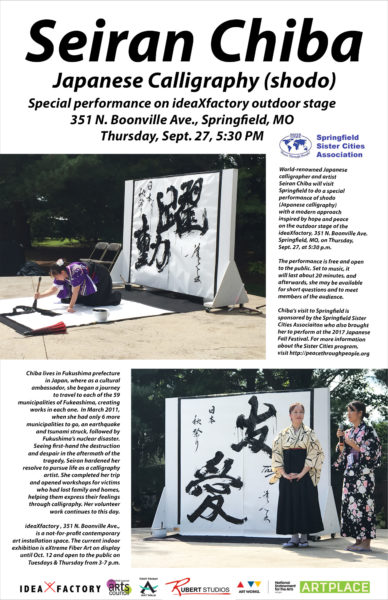 Seiran Chiba – Large Scale Japanese Calligraphy (shodo)
Special performance on ideaXfactory outdoor stage
351 N. Boonville Ave., Springfield, MO
Thursday, Sept. 27, 5:30 PM
World-renowned Japanese calligrapher and artist Seiran Chiba will visit Springfield to do a special performance of shodo (Japanese calligraphy) with a modern approach inspired by hope and peace on the outdoor stage of the ideaXfactory, 351 N. Boonville Ave., Springfield, MO, on Thursday, Sept. 27, at 5:30 p.m.
The performance is free and open to the public. Set to music, it will last about 20 minutes, and afterwards, she may be available for short questions and to meet members of the audience.
Chiba's visit to Springfield is sponsored by the Springfield Sister Cities Associaiton who also brought her to perform at the 2017 Japanese Fall Festival. For more information about the Sister Cities program, visit http://peacethroughpeople.org
Chiba lives in Fukushima prefecture in Japan, where as a cultural ambassador, she began a journey to travel to each of the 59 municipalities of Fukeashima, creating works in each one. In March 2011, when she had only 6 more municipalities to go, an earthquake and tsunami struck, followed by Fukushima's nuclear disaster. Seeing first-hand the destruction and despair in the aftermath of the tragedy, Seiran hardened her resolve to pursue life as a calligraphy artist. She completed her trip and opened workshops for victims who had lost family and homes, helping them express their feelings through calligraphy. Her volunteer work continues to this day.
Seiran Chiba's website: http://www.seiran-c.net
Here is a good article about Chiba:
http://www.beprimitive.com/blog/art-of-the-brushstroke-introducing-seiran-chiba