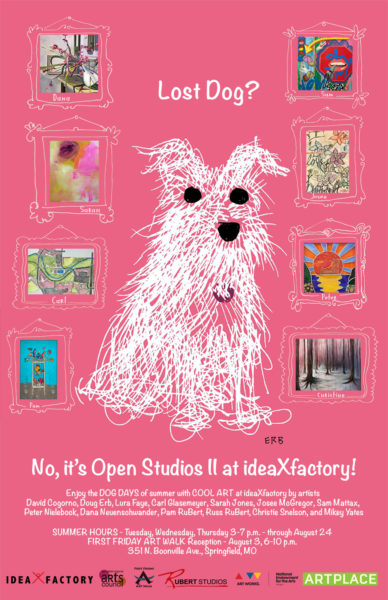 Join us during First Friday Art Walk on August 3 from 6-10 p.m. to enjoy COOL ART during the DOG DAYS of summer! Featuring sculpture, ceramics, painting, mixed media, neon art, fiber art, digital design by David Cogorno, Doug Erb, Lura Faye Cotton, Carl Glasemeyer, Sarah Jones, Josee McGregor, Sam Mattax, Dana Neuenschwander, Peter Nielebock, Peter Nielebock Pam RuBert, Russ RuBert, Christie Snelson, Mikey Yates.
You'll see new work, work in progress, other exhibition artwork by the above artists, some who work inside studio spaces at ideaXfactory. Outside we have the Sculpture X-Games garden and other murals and graffiti art.
You can also see the exhibition Tuesday-Thursdays 3-7 p.m. through August 24.