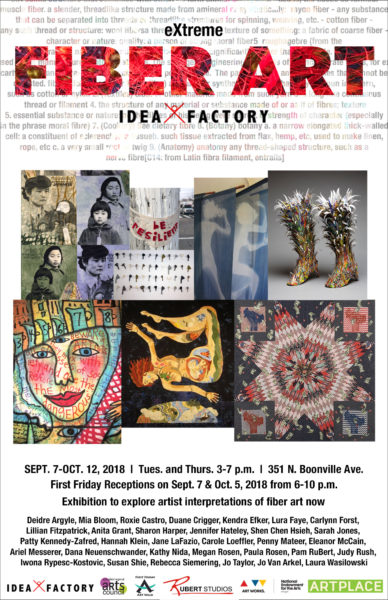 eXtreme Fiber Art Exhibition Sept. 7- Oct. 12, 2018
at ideaXfactory, 351 N. Boonville Ave., Springfield, MO 65806
Opening reception during First Friday Art Walk, on Sept. 7 from 6-10 p.m.
First Friday Reception Oct. 5 from 6-10 p.m.
Gallery hours are free and open to the public on Tuesdays and Thursday, 3-7 p.m.
A man's suit and boots made from lottery ticket litter. A three-foot high Korean troll head made of needle-felted wool. A quilted interpretation of the internment of Japanese-American citizens during World War II. Granny Graffiti and yarnbombing. A traditional Lone Star quilt with flying pigs and money sewn to the surface. A retro 50's graphic quilt fringed with tiny handcuffs.
These are just a few of the artworks that will be on display as part of the eXtreme Fiber Art exhibition at ideaXfactory which will feature over 60 artworks by both local and nationally known artists.
A wide range of quilts, weaving, sculpture, installation art, origami, needle-felting, embroidery, wearable art, and art books will be on display to show both unusual concepts and high degree of craft work that can be found in the contemporary fiber art field today.
The term "fiber art" is loosely defined for this exhibition as art made using natural or synthetic threadlike structures for dying, spinning, weaving, crochet, knitting, or sewing; fabric made from such structures; dietary fiber; or even moral fiber.
The exhibition is curated by Springfield fiber artist Pam RuBert, who made friendships with invited artists through her travels to art exhibitions across the country. Many of the featured artists have appeared in nationally recognized venues such as Quilt National and Fiberart International.
Featured artists include Deidre Argyle, Mia Bloom, Roxie Castro, Duane Crigger, Lura Faye, Lillian Fitzpatrick, Carlynn Forst, Anita Grant, Sharon Harper, Jennifer Hateley, Shen Chen Hsieh, Sarah Jones, Patty Kennedy-Zafred, Hannah Klein, Carole Loeffler, Penny Mateer, Eleanor McCain, Kathy Nida, Megan Rosen, Paula Rosen, Iwona Rypesc-Kostovic, Susan Shie, Rebecca Siemering, Jo Van Arkel, and Laura Wasilowski.