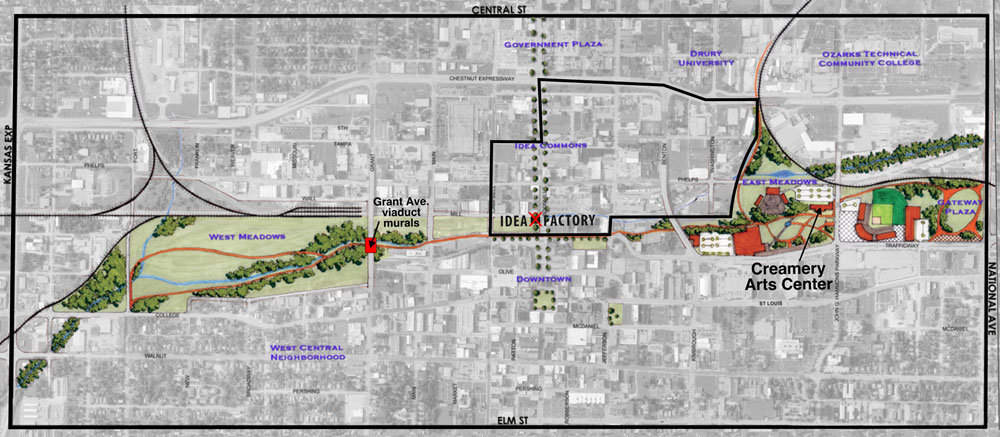 ideaXfactory is located at 351 N. Boonville, on the corner of Boonville and Mill Street in IDEA Commons

The ideaXfactory

The ideaXfactory was launched in October 2012 by the ideaXfactory committee who proposed turning a turn a vacant city building and adjacent lot into a contemporary art space to sponsor site-specific art installations and non-traditional art projects that would build connections between diverse populations of the surrounding communities.
Founding members are Russ RuBert of RuBert Studios, Lemondrop director Meganne Rosen O'Neal , Assistant Director of Public Works Jonathan Gano, Springfield Regional Arts Council board president Pam RuBert, and Drury University Architecture Art of Space founder Gerard Nadeau.
In the IDEA Commons
Located in the IDEA Commons (Innovation Design Entrepreneurship Art) a collaborative initiative of the City of Springfield and Missouri State University to create a 88 acre center city urban research park. The district encourages a mixed use redevelopment of the neighborhood, and future plans include development of green space and the day-lighting of Jordan Creek.
IDEA Commons is structured to:
• Develop a sense of place that will be attractive to young talent
• Revitalize the neighborhood with renovation and new construction
• Expand opportunities for business research and development
• Develop partnerships with entrepreneurs
• Attract creative, innovative and entrepreneurial human capital
• Promote economic development
A partnership with the City of Springfield

Located in southwest Missouri, the City of Springfield is the third-largest city in the state and the county seat of Greene County. Springfield Metropolitan Area, population 436,712, includes Christian, Dallas, Greene, Polk and Webster counties. Nicknamed Queen City of the Ozarks, Springfield is known as Birthplace of Route 66 and is home to several universities including Missouri State University, Drury University, and Evangel University.
A special project of the Springfield Regional Arts Council
The Springfield Regional Arts Council connects over 35 arts organizations and 180 artists with audiences across 27 counties. SRAC is the manager of the Creamery Arts Center located in center city urban Jordan Valley Park, a facility that offers exhibition space, educational programs, and programing for center city arts festivals and cultural events.
History
The ideaXfactory developed through input from three artist groups through connections of its founding members committee:
RuBert Studios is a sculpture and art studio, principal artist Russ RuBert creates interactive and iconic public art for vibrant locations including parks, universities, and hospitals. Serving nine years on the board of the International Sculpture Center, as chair of the committee that publishes Sculpture magazine, as founding owner of Sculpture.net international online community, and as past president of the Springfield Regional Arts Council, RuBert helps connect Springfield with the international art community.
Art of Space is a collaborative community of architects and artist at Drury University that creates temporary, highly interactive environmental art installations on the Drury campus and at various locations in Springfield for Artsfest and First Friday Art Walks as spatial embodiments of community. Art of Space celebrates the vitality of Springfield through a communal process of making spatial art, inviting all members of the community to participate in the revitalization of Springfield's urban districts.
LemonDrop was a volunteer-based nonprofit organization located on Springfield's historical C-street whose mission is focused on building the local arts community. Beyond being a physical gallery and venue, LemonDrop built and maintained relationships with artists, working to get them acknowledged and compensated for their work, and supporting all creative roles including musicians, promoters, organizers, managers, and audio/video engineers that make up the backbone of creative output.