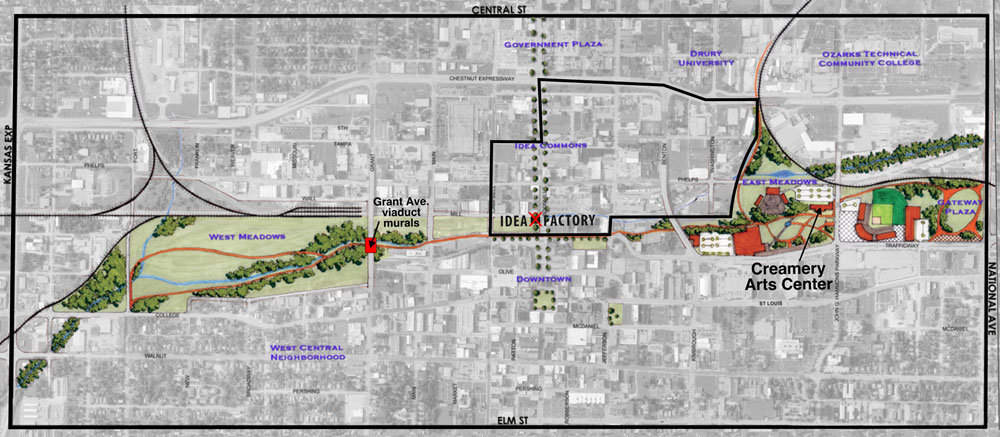 ideaXfactory is located at 351 N. Boonville, on the corner of Boonville and Mill Street in IDEA Commons,
across the street from MSU Art+Design Department Brick City, and at the center of the crossroads
between the Park Central Downtown and C-Street Arts Districts, East and West Meadows of Jordan Valley Park.
Summer Hours are Tuesday, Wednesday, Thursdays 3-7 p.m.
History of the ideaXfactory
The ideaXfactory is a volunteer-run, not-for- profit contemporary art installation and exhibition center launched in October 2012 by the ideaXfactory committee who proposed turning a vacant city building and adjacent lot into a contemporary art space to sponsor site-specific art installations and non-traditional art projects to build connections between diverse populations of the surrounding communities to increase an appreciation and understanding of art.
Concepts for the ideaXfactory were developed through input from three artist groups and connections of its founding members committee. Founding members were Russ RuBert of RuBert Studios and former board member of the International Sculpture Center, publisher of Sculpture Magazine, the Assistant Director of City of Springfield Public Works Jonathan Gano, Lemondrop art collaborative director Meganne Rosen, Springfield Regional Arts Council board president Pam RuBert, and Drury University Architecture Art of Space founder Gerard Nadeau.
Location and Partnerships
ideaXfactory is located in the IDEA Commons (which stands for Innovation, Design, Entrepreneurship, and Art), a collaborative initiative of the City of Springfield and Missouri State University to create a 88-acre center city urban research park in an area of downtown Springfield that is currently experiencing revitalization. It stands at the crossroads between the Park Central Downtown and C-Street arts districts and the East and West Jordan Valley Parks
The ideaXfactory is a collaborative partnership of the City of Springfield, the third-largest city in the state of Missouri, and the Springfield Regional Arts Council which connects over 35 arts organizations and 180 artists with audiences across 27 counties.
ArtPlace America Grant
In the first year of operation, ideaXfactory was awarded an ArtPlace grant of $200,000 for 2013-2014 from ArtPlace America because it was considered an "exceptional example" of creative placemaking. The grant allowed ideaXfactory to install double doors from the interior gallery to the outdoor grass lot, build an outdoor performance stage and workshop patio, and to provide funding for programs and artist installations.
National Endowment for the Arts Grant
The ideaXfactory was awarded a National Endowment for the Arts "ArtWorks" grant of $30,000 for  2015-2016 to continue its programing. In the words of ideaXfactory director Russ RuBert, "ideaXfactory acts as catalyst bringing innovative artists together with audiences and encourages idea exploration. The NEA grant brings a stamp of national approval for the innovative local programing we have and provides exciting opportunities to expand."
Current Direction
Under the leadership of Russ and Pam RuBert, the ideaXfactory currently continues to sponsor site-specific art installations, non-traditional art projects, and exhibitions. Three founding members have since moved to other cities. The ideaXfactory now operates with the help of resident artists Sarah Jones, Faye Cotton, Christie Snelson, and Doug Erb, through collaborations with Missouri State University's Art + Design Department, and under the fiscal management of the Springfield Regional Arts Council.