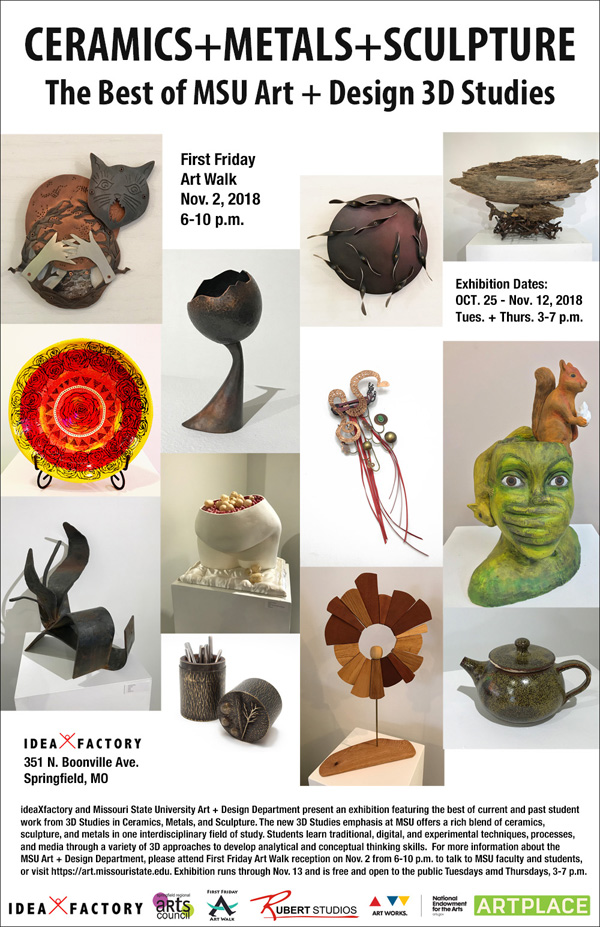 Ceramics + Metals + Sculpture: The Best of MSU Art+Design 3D Studies
Opening reception at ideaXfactory, 351 N. Boonville
First Friday Art Walk Nov. 2, 6-10 p.m.
Over 70 artworks by 42 current and past Missouri State University students. MSU students will be at the opening reception to discuss their work and the program. The exhibition will continue through Nov. 13, Tuesdays & Thursdays 3-7 p.m.
Featured artists
Mackenzie Elliot, Forrest Byrd, Will Finch, Nicole Harris, Ashley Wampler, Ashlyn Longman, Christian Klein, Kelsey Thornton, Joann Nielson, Audrey Dlambach. Lindsey Beckmeyer, Derek Fitzpatrick, Colin Aubuchon, Olga Shute, Casaundra Beard, Johanna Typaldos, Hannah Klein, Joshua Burd, Emily Waters, Amy Rushing, Amber White, Kelsey Clapper, T. Baedke, Emily Cunningham, Caleb Davis, Shauna LeAnn Smith, Rick Briggenhorst, Joanna Friske, Brandie Oehring, Shayna MacDonald, Chelsey Klosterman, Selena Buckner, Darby Murdock, Jared Hurst, Sheri Cox, Annie Campbell, Jacob Guffey, Diane Ash, Larry Rhodes, Jacie McGowan, and Shelby Corley.
The new 3D Studies emphasis at MSU offers a rich blend of ceramics, sculpture, and metals in one interdisciplinary field of study. Students learn traditional, digital, and experimental techniques, processes, and media through a variety of 3D approaches to develop analytical and conceptual thinking skills.
For more information about the MSU Art + Design Department, please attend First Friday Art Walk reception on Nov. 2 from 6-10 p.m. and you'll have the opportunity to talk to MSU faculty and students, or visit https://art.missouristate.edu
The exhibition will be also be free and open to the public through Nov. 13 on Tuesday's and Thursdays from 3-7 p.m.