The ideaXfactory has been awarded a 2013-14 creative placemaking ArtPlace grant from ArtPlace America. Founding committee members of the ideaXfactory who developed the concept to turn a vacant City building and empty lot into a contemporary art space:
Lead Artist/Curator – Russ RuBert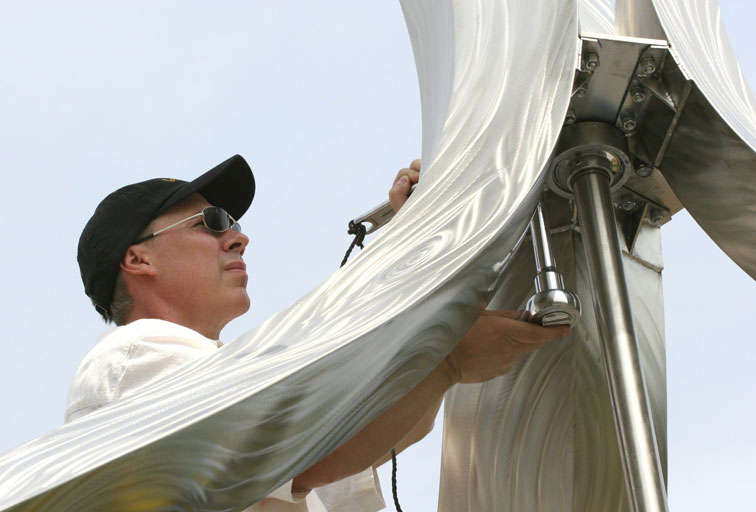 Russ RuBert is a sculptor who has created sculpture environments and interactive art for Missouri State University, Walt Disney Children's Arts Festivals, Mid-America Cancer Center, Cedarhurst Sculpture Park, and Jordan Valley Park. In 2007, he was awarded "Missouri Artist of the Year" by the Missouri Arts Council and Governor of Missouri.
An alumni of the Kansas City Art Institute, he is now a partner at RuBert Studios, a 22,000 s.f. industrial studio. He consults on multidisciplinary science, art, and education projects to create art and technology-based environments.
As a board member of the International Sculpture Center from 2001 to 2010, he chaired the committee to publish Sculpture magazine and served on the conference committee that organized international sculpture conferences in Houston, Pittsburgh, and Grand Rapids.
In 1996 he founded http://Sculpture.net, an online discussion forum for established and emerging sculptors, collectors, curators, and conservators to network, share ideas, and professional opportunities. He continues to provide this free community service to over 13,778 members around the world.
As president of the Springfield Regional Arts Council 1991-92, he chaired the city Cultural Plan, worked with the City of Springfield to secure tax credits to develop a historical building into the Creamery Arts Center, and worked with the SRAC executive director to win a U.S. Department of Education grant for arts programming.
Pam RuBert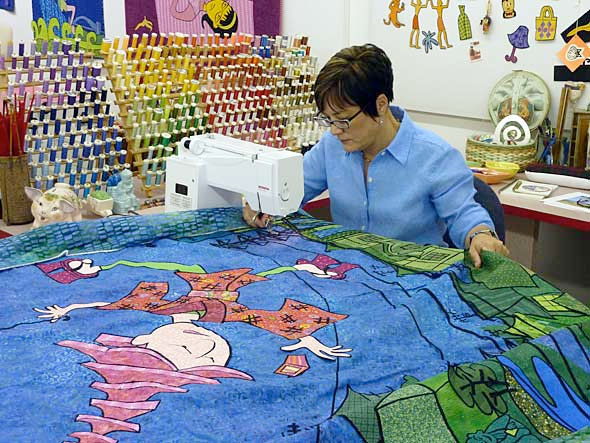 Pam RuBert has exhibited her contemporary art quilts at Fiberart Internationals, Quilt Nationals, International TECHstyle Art Biennial at San Jose's Zero1 Festival in 2010 and 2012, International Quilt Festivals, museums and art centers around the world. Her work has been featured in many publications including American Style magazine, Wall Street Journal, Fiberarts magazine, and a PBS documentary.
Her drawings, quilts, and writing are published in books about art and the creative process including Creative Time and Space: Making Room for Making Art by North Light Press and Quilting Arts: Inspiration, Ideas and Innovative Works from 20 Contemporary Quilters by Voyageur Press. She blogs for PaMdora's Box, Ragged Cloth Cafe, SpringfieldArts.com, Springfield Business Journal and the Americans for the Arts website.
As a partner at RuBert Studios, a 22,000 sq.ft. peanut butter factory renovated in 1999 into collaborative studios for metal, wood, painting, and fibers, she collaborates on written, photo, video, and web-based documentary projects about public art and artists and mapping public art projects on Google Earth.
In 2008, she organized Threadlines, an international fiberart exhibition in collaboration with Missouri State University's Art & Design Gallery. She served six years on the Springfield Greene County Park Board and is currently president of the board of the Springfield Regional Arts Council and an organizer for PechaKucha Springfield.
Meganne Rosen O'Neal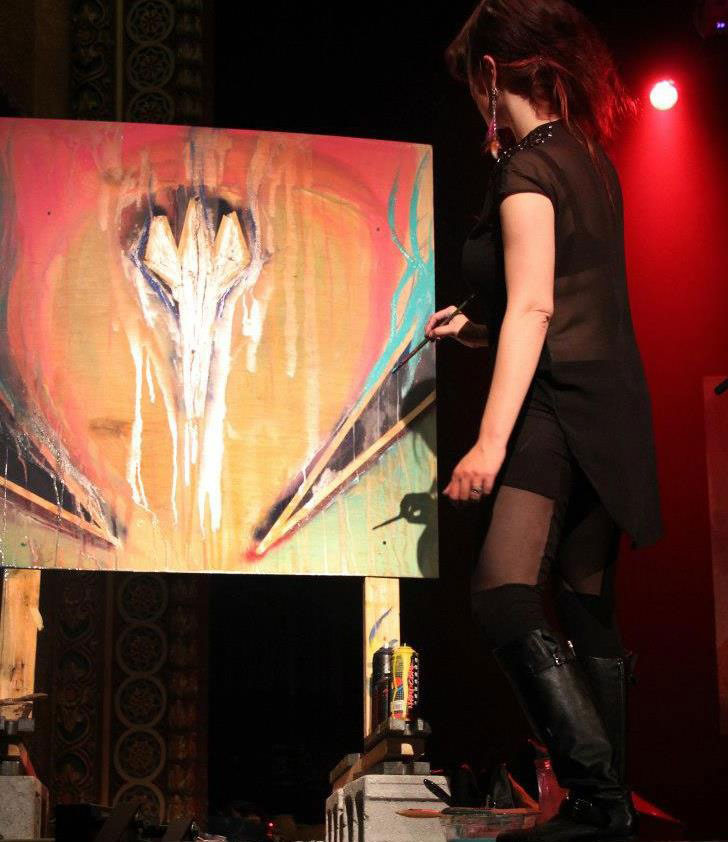 is an artist working in abstract acrylic painting. She graduated from Drury University in Springfield, MO with a B.A. in Art History and M.A. in Studio Art and Theory. Her work spans a variety of media including ceramics, fibers, plaster casting, installation work, video, collage and mixed media sculpture.
As executive director of LemonDrop, Meganne uses social media to organize and promote exhibitions, concerts, and live art events that showcase emerging urban art and local musical talent. She has a flair for developing unique community-building fundraisers such as "Spelling Bee for Cheaters" and a 24-hour Art-a-thon.
As an actor, artistic director and production designer for short film projects, she has been part of award-winning teams for the past four years of the SATO 48-hour film festival.
She currently teaches fiber arts at Missouri State University Art & Design Department located in Brick City, directly adjacent to the ideaXfactory in IDEA Commons. She serves on the board of the Springfield Regional Arts Council and is co-organizer for Pecha-Kucha Springfield.
Gerard Nadeau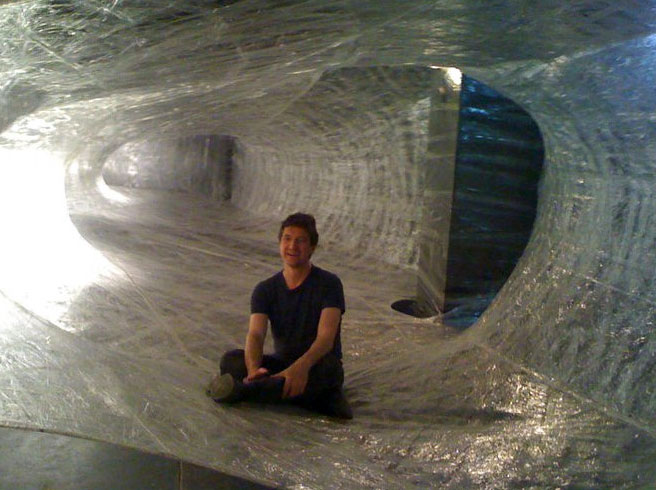 is a licensed architect and assistant professor at Hammons School of Architecture at Drury University. He is founder and coordinator of Art of Space, an architectural collaboration of students, faculty, alumni, and artists who create temporary interactive public art works in Center City Springfield as spatial embodiment of community.
Art of Space works with downtown and arts groups to create large-scale biannual "space as event" installations contributing to the cultural vibrancy and revitalization of Springfield's downtown districts.
Nadeau has presented Art of Space projects at the Duration Culture Lab conference in Newcastle, at the Environmental Design Research Association "Emergent Placemaking" conference in Seattle in 2011, and writes for the Temporary Art Review website.
Nadeau's "Diurnal Piers" proposal for Boston Harbor was a finalist in the 2010 "Make a Point" competition sponsored by Friends of Fort Point Channel. His collaboration with Weaving Hand studio and the Textile Arts Center in Brooklyn on MetaLoom, an interactive installation, was exhibited in 2009 at Creative Block, Webster Hall, NYC, and at the Sweetport Art and Music Festival.
Jonathan Gano

As Assistant Director of Public Works for the City of Springfield, Jonathan Gano oversees the care, maintenance, and construction of over $1.5 billion in publicly-owned infrastructure. Gano has been with Public Works for nine years and was selected by the American Public Works Association as Young Leader of the Year for 2010.
Gano is President of the board of directors for the American Public Works Association – Missouri Chapter. He served on the board of directors for Habitat for Humanity of Springfield and was on of the incorporators of the Springfield Community Land Trust.
He graduated from the United States Military Academy at West Point in civil engineering and has a master's degree in engineering management from University of Missouri-Rolla. Prior to working for the City of Springfield, Gano served as a engineer officer in the United States Army. He is also a bagpipe player and has toured and performed in four countries.