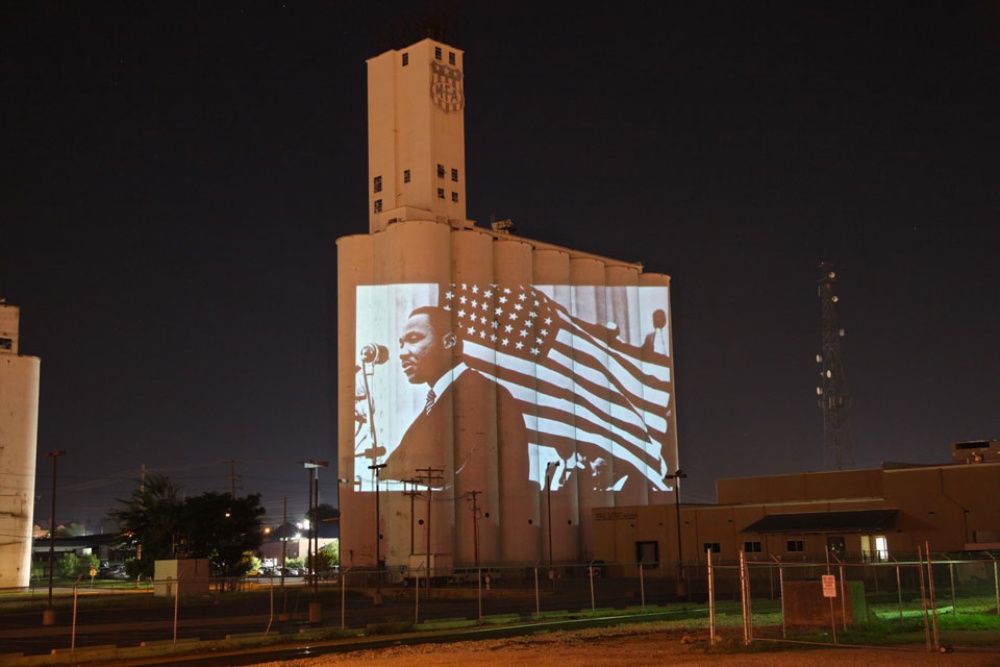 A series of night-time projections by artist Russ RuBert on historic silos located in downtown IDEA Commons has inspired the City of Springfield to invite the artist to project images and video on a large canvas that will be installed in Park Central Square for a Unity March and Celebration of the 50th anniversary of King's "I have a Dream" speech on Wednesday, August 28, 2013 in Park Central Square.
RuBert says, "I've long been an admirer of Dr. Martin Luther King Jr., and first had the idea of projecting images of MLK on the Silos just after the Trayvon Martin verdict, the same time marches (mostly nonviolent) were happening in many other cities in reaction to the verdict. I knew the 50th anniversary of the "I have a Dream" speech was coming up, and though it seemed far off then… I thought that Dr. King's message of nonviolence and desire for unity was powerful and fitting, even 50 years later."
So the projections are my nonviolent gesture in response to that American dream Dr. King stated so eloquently, "I have a dream that one day this nation will rise up, live out the true meaning of its creed: We hold these truths to be self-evident, that all men are created equal."
RuBert was contacted by the organizers of the Unity March to help with a projection of a special video and has volunteered his personal support and on behalf of ideaXfactory.