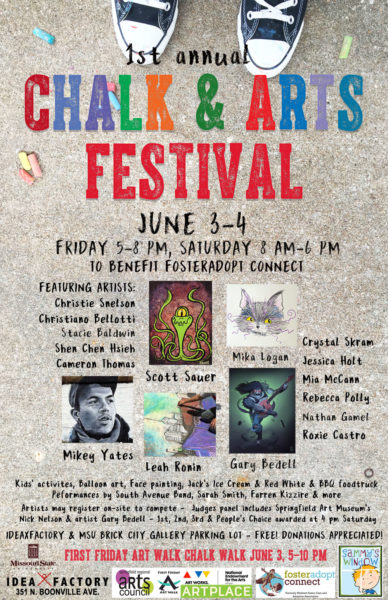 See great sidewalk chalk art by professional artists and make your own at the 1st annual Chalk & Arts Festival to benefit Foster Adopt Connect SWMO on June 3-4!
Our featured talented artists will be working on the block of 351 N. Boonville Ave. on the ideaXfactory sidewalk and Brick City Gallery parking lot at various times Friday evening during First Friday Art Walk and Saturday day.
Additional artists can join the friendly competition for 1st, 2nd, 3rd and People's Choice awards by registering on-site. The panel of Judges including Springfield Art Museum executive director Nick Nelson and famous artist Gary Bedell will be judging the art at 4 pm on Saturday, so get your art done by then!
Featured chalk artists including Leah Ronin, Gary Bedell, Christie Snelson, Christiano Bellotti, Stacie Baldwin, Shen Chen Hsieh, Cameron Thomas, Scott Sauer, Mikey Yates, Mika Logan, Crystal Skram, Meagan Marie Brewer, Mia Austin Mccann, Rebekah Polly, Nathan Gamel, Roxie Castro, and Jessica Holt will treat you to a wide variety of comic, cartoon, realistic and abstract street art!
This is a free family-friendly event with chalk provided. There will also be many arts, crafts, and vendor booths on the MSU parking lot, a Bounce House, balloon art, face-painting, Jake's Ice Cream truck, Red White & BBQ food truck, and other kid's hands-on activities. Performers include by South Avenue band, Sarah Smith, Farren Kizzire, and KC bagpiper Andy Magee.
Friday June 3 is also First Friday Art Walk Chalk Walk, so you'll have a chance to visit 26 other galleries in downtown Springfield. The Springfield Art Museum will be running a free shuttle that night from the Watercolor USA opening to 3 locations downtown – ideaXfactory, The Creamery Arts Center, and Fresh Gallery so you can park and ride on Friday from 5-9 p.m.
The ideaXfactory indoor exhibition is PILE(LANDS) by John Dougherty who explores themes of consumption and waste by creating contemporary art "islands" using unexpected materials such as circuit boards, 3D printing, food, plastic, inflatables, videos and dryer lint!
MSU sculpture professor Deidre Argyle will be exhibiting her model of a future ideaXfactory immersive environment installation using sculpture objects, sound and video to create "It Is What It Was" — an interactive exploration of themes of death and decay as a means for new life and regeneration.
The 1st annual Chalk & Arts Festival is a funds and awareness raising event for the FosterAdopt Connect organization, so tell your friends, and donations are always appreciated!