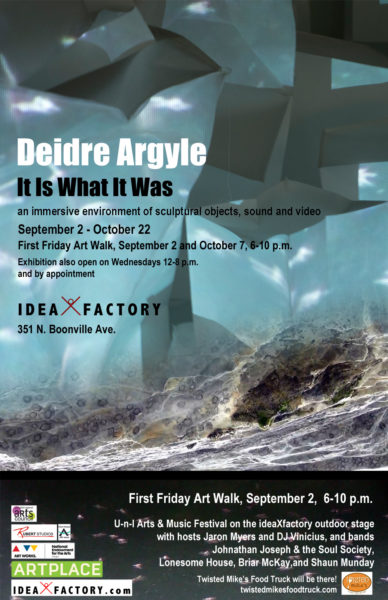 Join us at the ideaXfactory on Sept. 2 First Friday Art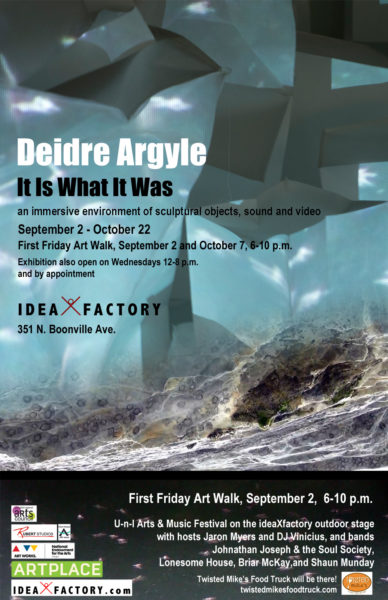 Walk for the opening reception of Deidre Argyle's "It Is What It Was" — an immersive installation created with sculptural objects, sound and video. On our outdoor stage, the U n I Arts & Music Festival will feature sounds of jazz, funk, soul, and indie rock with four bands:  Jonathan Joseph & The Soul Society , Lonesome House, Briar McKay, and Shaun Munday, and hosts Jaron Myers and Dj Vinicius. Twisted Mike's food truck will also be there!
Deidre Argyle's installation features video scenes of Ozark steams, rivers and other natural environments flickering across complex surfaces of fabric cubes, sewn and hung by the artist from the ceiling of the ideaXfactory. At the center of the installation rests a large bone-like sculpture, large enough to walk through!
The artist's statement: "Death has become a somewhat taboo subject in American culture. The reality is that we need death and decay for new life and regeneration. I often wonder, were we more attached to the reality of this cycle, would this understanding let us find more comfort in the unknown? Would it lead to a healthier sense of living now? Would it change how we interact with each other, and place more value on our relationships?
Currently I am developing an immersive installation that allows the viewer to contemplate our life cycle and the greater systems that govern nature by creating objects in a space that maintain a sense of calm beauty while in obvious stages of decay and transformation."
Argyle is a professor at MSU Art & Design Department and head of the MSU sculpture program. She received her BFA from San Jose State University and MFA from the University of Arizona. Previous to teaching at MSU, she was Academic Chair at The Southwest University of Visual Arts in Tucson, AZ.