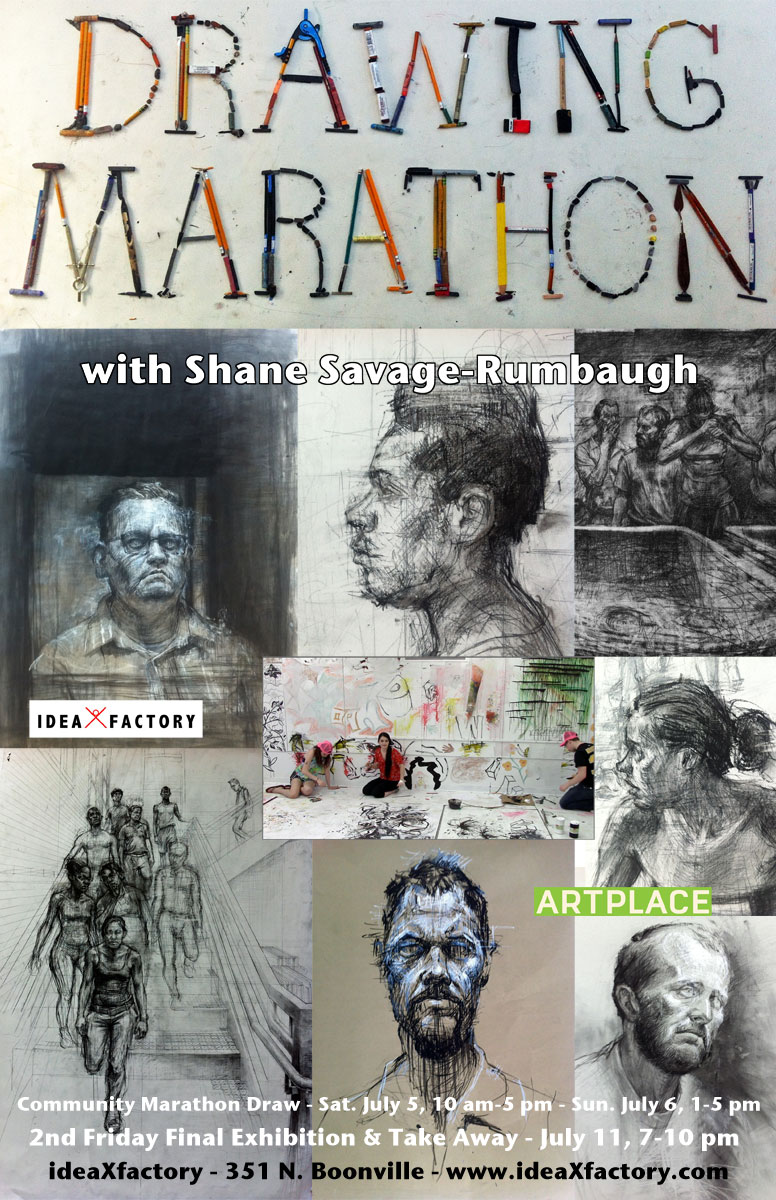 Drawing is common to all people and cultures. Whether they be simple lines or complex renderings, drawings help us to communicate, express ideas and emotions, and to understand and record our experiences in the world.
Visiting artist Shane Savage-Rumbaugh brings to the ideaXfactory his years of studio practice in drawing the human figure using a variety of media and an enthusiasm to share his experience with others. He will be working on location June 16 – July 11 to create large scale drawings on paper based on Springfield residents and hopes people will stop by to see the work in progress and pose for a drawing.
Savage-Rumbaugh will also coordinate a community Drawing Marathon event on Saturday, July 5, 10 a.m.-5 p.m. and Sunday, July 6, 1-5 p.m. at the ideaXfactory, 351 N. Boonville Ave.
The interior gallery will become a giant drawing surface with walls and floors lined with paper. The public is invited to become a part of the drawing process. People may bring their own drawing materials and some materials will be provided. The event is free and open to all ages and backgrounds. Artistic experience is not required.
To facilitate drawing eXploration at the community event, live drawing models will be part of a dynamic constructed tableau.  A suminagashi exploration station will be available with demonstrations of this ancient Japanese art of floating Sumi ink on the surface of water, then transferring it to paper.
At 2nd Friday Final Exhibition and Take Away on July 11, 7-10 p.m., visit the ideaXfactory to see the culmination of weeks of drawing on-site by Savage-Rumbaugh and the Springfield community.
At the end of the evening, the community drawing installation will be disassembled and sections will be available for participants to take home on a first-come basis.
Shane Savage-Rumbaugh was born in Springfield, received his B.F.A. from School of the Art Institute of Chicago and his M.F.A. in painting from Cornell University. He is currently Assistant Professor at Stonehill College in Massachusetts. At Stonehill, Shane organized "Get Your Draw On" drawing marathon inspired by recent events at NYC School of Visual Arts. In 2014 he was awarded the Massachusetts Cultural Council Individual Artists Grant and Award in the discipline of Drawing.
Shane Savage Rumbaugh – Artist Statement: 
"Drawing is basic, primal and accessible. We all draw as kids, and historically, learning to draw was considered to be an indispensable part of a refined education.
I think of drawing as the bedrock of visual expression, and I want to celebrate its importance and potential.  In "Drawing Marathon" at the ideaXfactory, I hope to create an event that will be fun and inclusive, where participants are encouraged to play, create, and respond — energized by the synergy of the group.
It will be interesting to make an environment in which people are immersed in a giant, evolving drawing, and we will turn the ideaXfactory into a massive "blank canvas", inviting everyone to let their drawings sprawl from the walls to the floor."