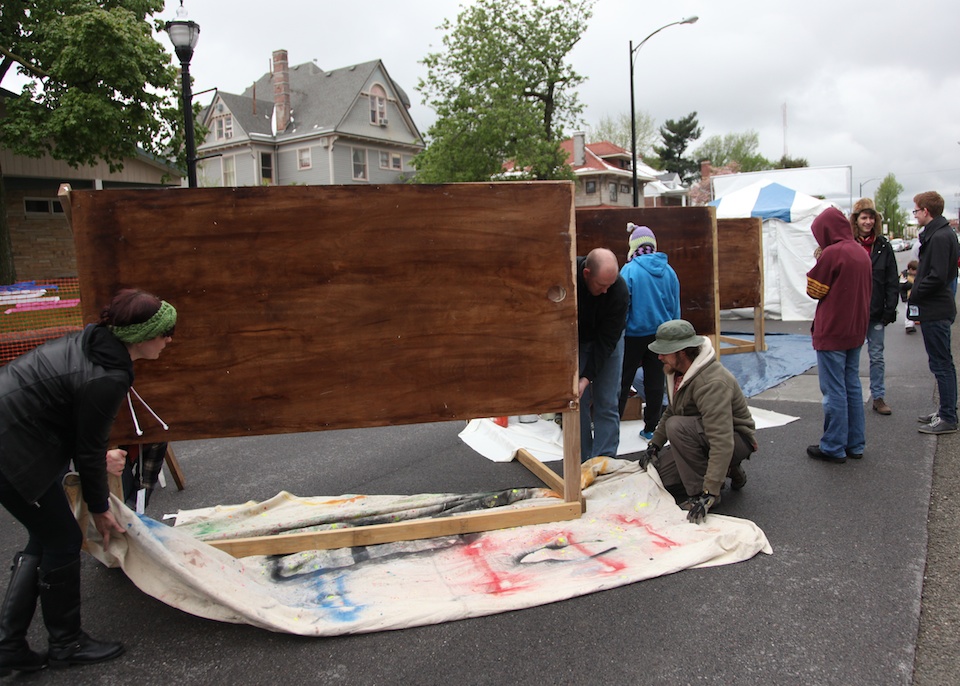 The ideaXfactory collaborated with Lemondrop and Squidfoo Art Gallery and Hacker Space to create Live Art at Artsfest on the weekend of May 3-4, featuring a live painting mural wall, hands-on figurative tape sculpture, all-ages innovative print-making, and extreme knitting.
Ahead of the event, we create recycled art "road barricades" to mark the street and to give people the sense that this is "art under construction."
Zig Zag Mural Wall
Construction of a zig zag wall using recycled and donated wood occurred on site, then invited professional and street artists painted 4'x8′ panels throughout the weekend. Featured artists included Meganne Rosen O'Neal, Gary Bedell, Scott Sauer, Houston Hands, Nicholas Tarr, Cameron Thomas, Grace "LaFace" Statwick, Debbie Madden, Pam RuBert, John Coleman, and Justin Gault. The adult artists were joined by two teams of Central High School IB honors art students, led by instructor Susan Brown and student artists Sam Snodgrass and Drew Edinger.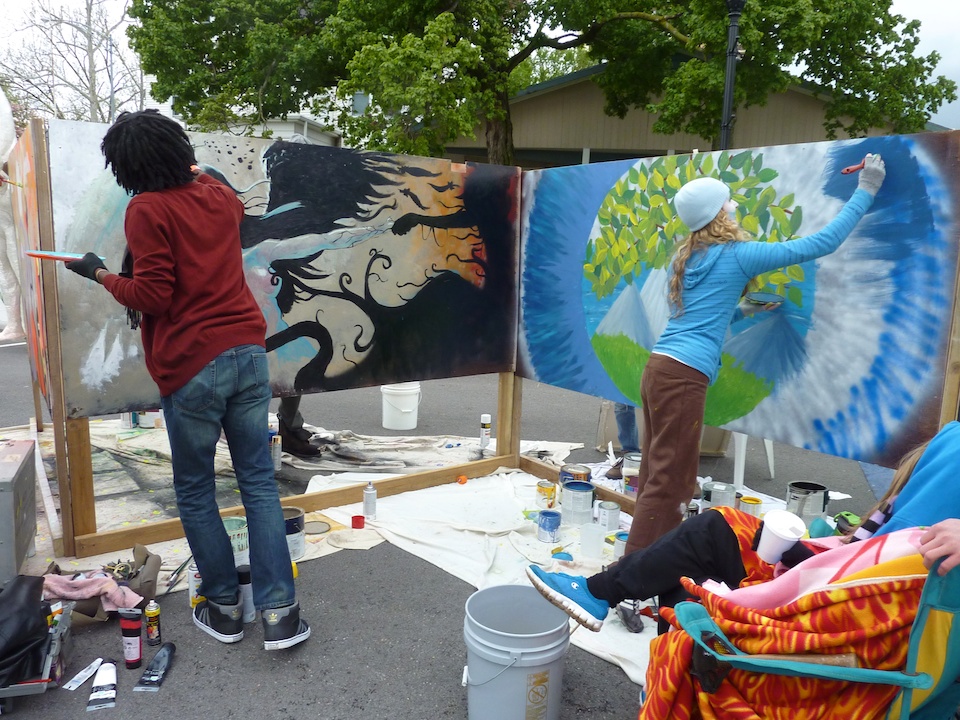 Innovative Print-Making
Julie Taylor Jones of the Community Foundation's Placeworks Arts Outreach offered innovative hands-on print-making for all ages using unusual tools such as foam pool noodles and Q-tips. The brightly colors and messy print-making was most popular with the younger crowd at Artsfest.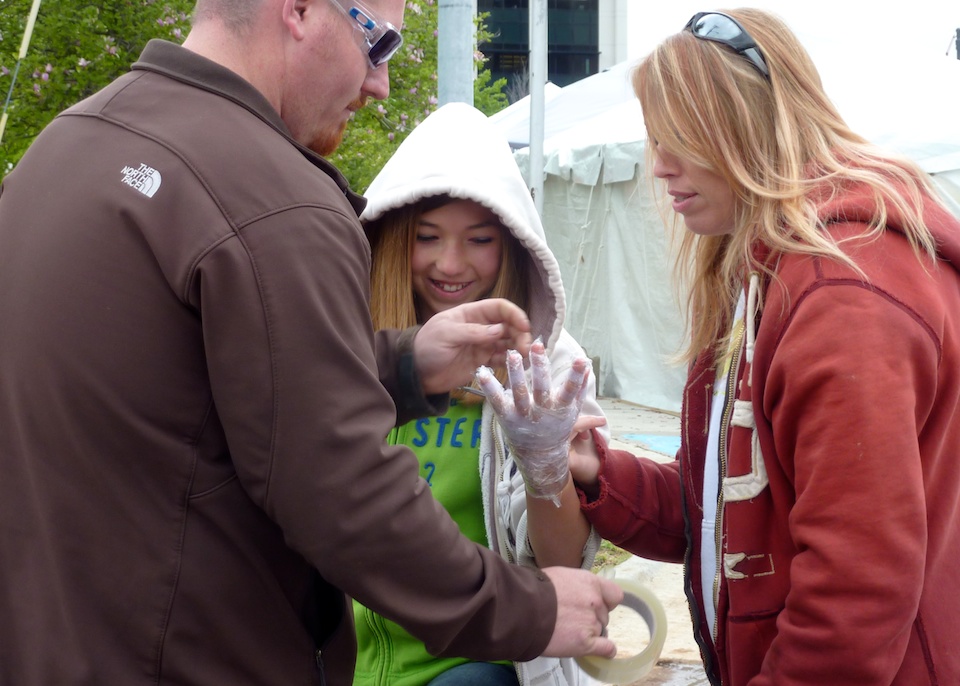 Tape Sculptures
After hosting the Missouri Art Educators Association Spring Conference wrap-up party, the ideaXfactory connected with Clever Elementary School art teacher Cathy Russell and Sparta High School art teacher Stacie Baldwin who lead the figurative tape sculpture brigade. Inspired by street artist Mark Jenkins, they taught people to work in teams to wrap people, objects, and stuffed animals first in saran wrap, then taping tape.
These projects took more time and appealed to all ages, especially families who often ended up working as a team for several hours to complete a sculpture. One father tried to entice his kids to leave the area, mentioning that they had saran wrap and tape at home. The kids said in astonishment, "We can do this at home?"
Yarn Bombing and Extreme Knitting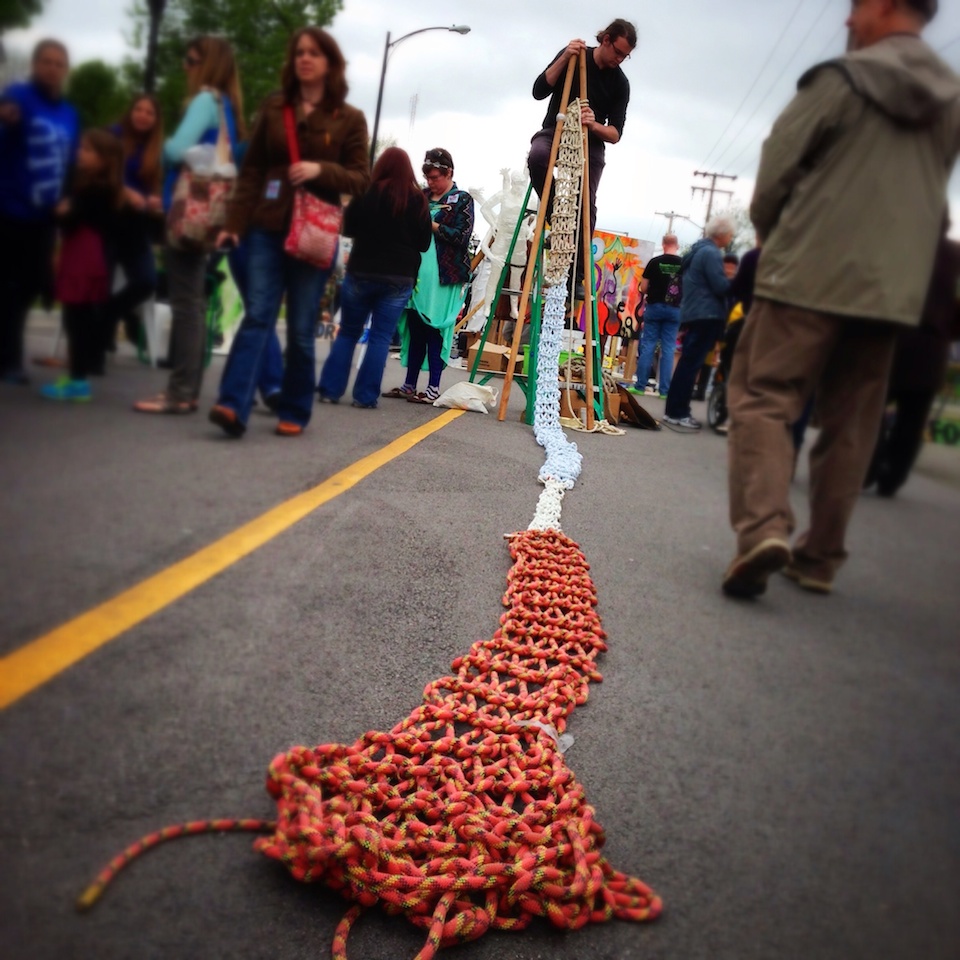 Some ideaXfactory yarn bombers and high school kids created on-site installations, and the highlight was Jacob Gaumer and his eight-foot knitting needles. Standing on a ladder, Gaumer knitted various lengths of donated rope, creating a long scarf that stretched through Walnut Street.
Gaumer said, "It's a time stamp. Artsfest has lasted this many stitches."
The long rope scarf later ended up one block south of Artsfest, temporarily wrapping the J.Q.H. statue on the corner of St. Louis Street and Hammons Parkway.
Artfest on Historic Walnut Street
Artsfest is a traditional fine art festival presented by the Springfield Regional Arts Council every first weekend in May. The festival typically feature artists' booths and five performance stages. The 2013 theme for the festival, "Art Is…" was enhanced by the new life that Live Art by Artists injected into the weekend.
An art patron who visits Artsfest every year said he usually only has a two-hour window before his kids get bored. "This year," he said, "they stayed in the Live Art area for four hours alone."