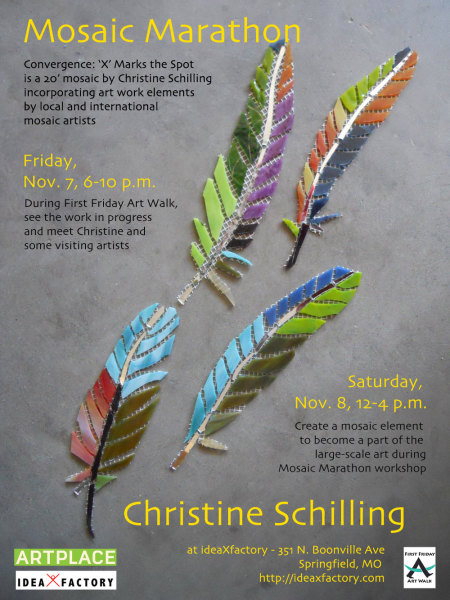 Convergence: 'X' Marks the Spot is a colorful, vibrant, and symbolic 20′ mosaic by artist Christine Schilling incorporating art work elements by local and international mosaic artists.
Visit the ideaXfactory on November 7, 6-10 p.m. during the First Friday Art Walk to see the work in progress and meet Christine and visiting artists.
Come back on Saturday, November 8 between noon and 4 p.m. for the Mosaic Marathon Workshop to make a mosaic element that will become part of this large-scale public art work. Materials will be provided and the artists will be there to assist you. The workshop is free and open to all ages.
Christine Schilling is an artist well-known for her public artworks in schools, parks and streetscapes throughout the region. Most recently she collaborated with artists from around the world on the Mosaic Intervention Team working in Chile.
Many of these international artists are contributing small pieces of artwork to the ideaXfactory project and a couple are planning to travel to Springfield from Germany and San Francisco to participate in Mosaic Marathon!
Don't miss this fun and exciting installation at the ideaXfactory that will bring together the past, present, and future, nature, art and technology!