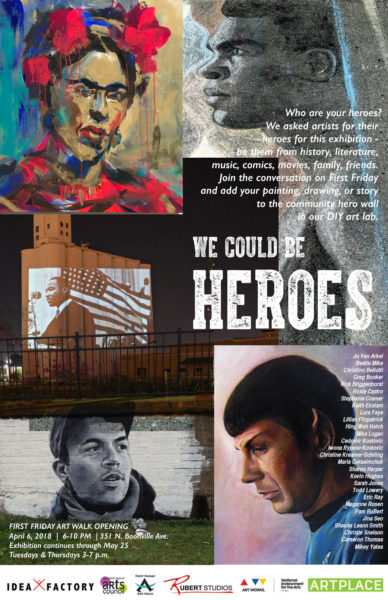 We asked 25 artists for their heroes for this exhibition – be them from history, literature, music, movies, mentors, comics, friends, relatives…. To explore or present diverse heroes so we can all discover something new.
One artist said, "I don't have any heroes!" Even better, make up your own. What do you want your hero to do? We need more heroes, so why not invent a few more!
Join the conversation at our opening reception on April 6th, First Friday Art Walk from 6-10 p.m. and add your painting, drawing, or story to the community heroes wall in the ideaXfactory DIY Art Lab. This event is free and open to the public, and the exhibition will continue through May 25, on Tuesdays and Thursdays 3-7 p.m.
Contributing artists include MSU and Drury faculty members, independent, professional, and street artists.
Jo Van Arkel
Beatle Mike
Christino Bellotti
Greg Booker
Rick Briggenhorst
Roxie Castro
Stephanie Cramer
Keith Ekstam
Doug Erb
Lura Faye
Lillian Fitzpatrick
Hing Wah Hatch
Cedomir Kostovic
Iwona Rypesc-Kostovic
Christine Kreamer-Schiling
Maria Gerasimchuk
Sharon Harper
Kevin Hughes
Sarah Jones
Mika Logan
Todd Lowery
Eric Ray
Meganne Rosen
Pam RuBert
Jina Seo
Shauna Leann Smith
Christie Snelson
Cameron Thomas
Mikey Yates