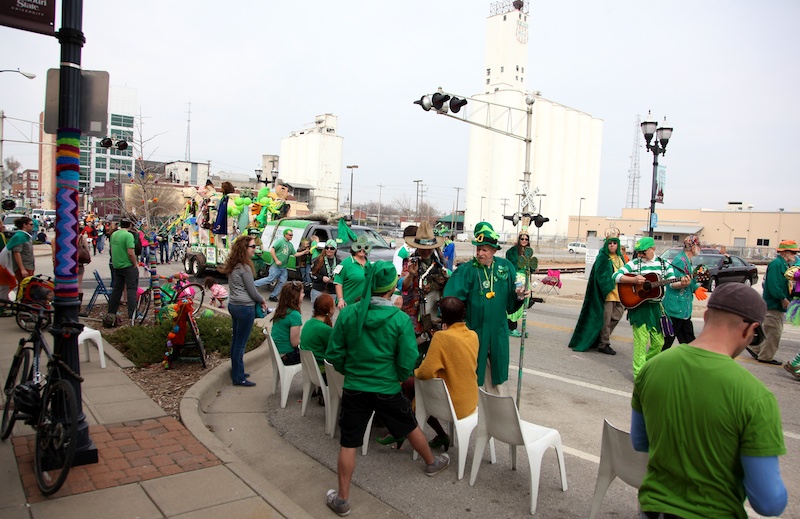 A recent article in the Minneapolis StarTribune featuring the Twin Cities "Irrigate Arts" program shows a leading national example of ways that artists can be urban troubleshooters when resident artists work closely with St. Paul's Public Works staff.

In addressing urban concerns, it's interesting to think about who asks the questions or how urban problems are defined. Artists sometimes see problems not yet noticed by others or things that might not be considered problems at all. Perhaps this is because artists living or working in an area have the opportunity to observe surrounding community life and personal interactions without a set agenda or pre-defined job to fulfill. Artists tend to document and explore life, community, or events in a variety of ways — often through drawing, photography, or other creative-thought processes that allow them to ask "why" or "what if" in open-ended ways.
Since moving in last November, artists working at the ideaXfactory have become more in tune with the life of the larger downtown community. Observing bus and bike routes, pedestrian traffic, and making connections with other local artists and businesses has been part of daily life.
Saturday's parade connecting two historic downtown neighborhoods for St. Patrick's Day added an unusual opportunity to observe behaviors of larger groups of people using the area and led us to ask how to encourage this more vibrant atmosphere throughout the year.
The front of the building
Large storefront windows of the ideaXfactory have been a real asset, allowing the public to observe installation art in progress and to create a sense of curiosity about the space by programming night-lighting of the interior when the building is closed. But the storefront design also presents challenges as we think about expanding beyond the building walls.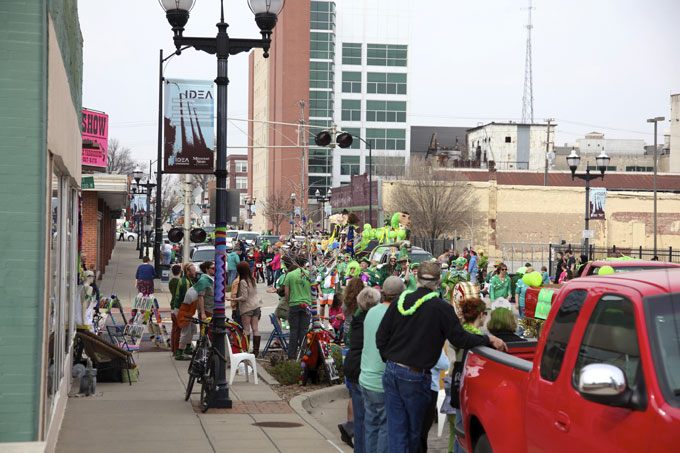 For starters, we wish we had a bigger "front porch" — especially after a pleasant day working outside on the sidewalk during last Friday's unseasonably warm 80-degree weather. Taking a cue from Squidfoo Art Gallery & Hacker Space down the street, we moved furniture into the street early in the morning to keep parked cars from blocking our parade view.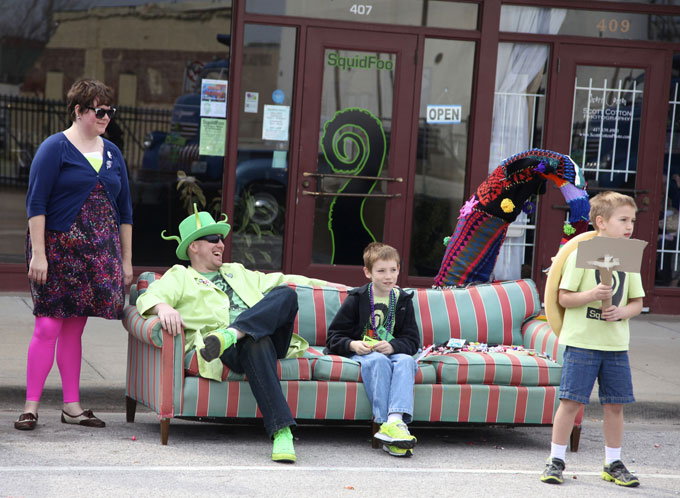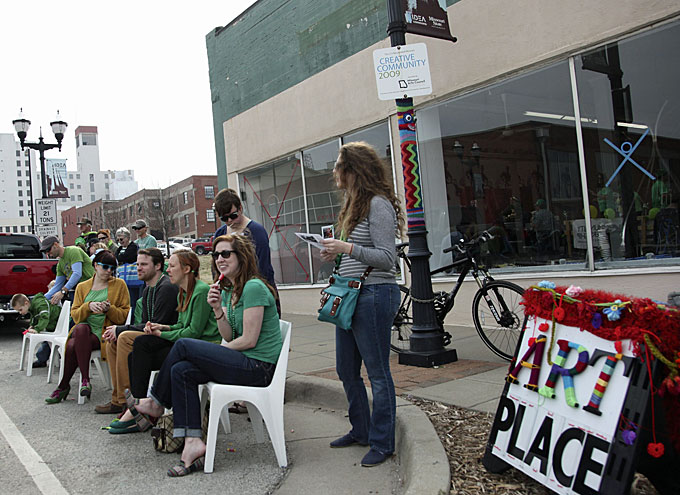 The other thing we noticed was how many people could fit on a small patch of decorative streetscape. At first glance, the spot seemed barely big enough for the ginko tree and juniper bush.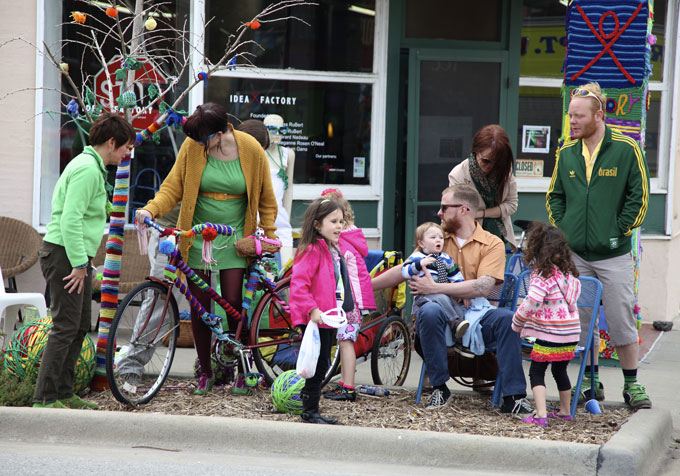 But now we realize there could be room for a sculpture or artist-designed seating. If we knock off the back curb to level the sidewalk, we would indeed have a bigger "front porch." Directly across the street is another lonely patch of bark mulch that also happens to be a bus stop – so why not a pair of artist-designed spaces that people can actually use?
The Empty Lot
By far, the biggest opportunity and frustration is the grass lot adjacent to the building. A big open space with potential for gatherings and exhibition, it seems disconnected from the interior of the building due to lack of convenient access. Observing the space before the parade, it's obvious that people are not interested in using the land even though many brought chairs and coolers. They only seem to notice it as an obstacle to an alternative route between Missouri State University's Brick City and Boonville Avenue because of a steep slope at one end of the lot and a brick wall barrier on another side.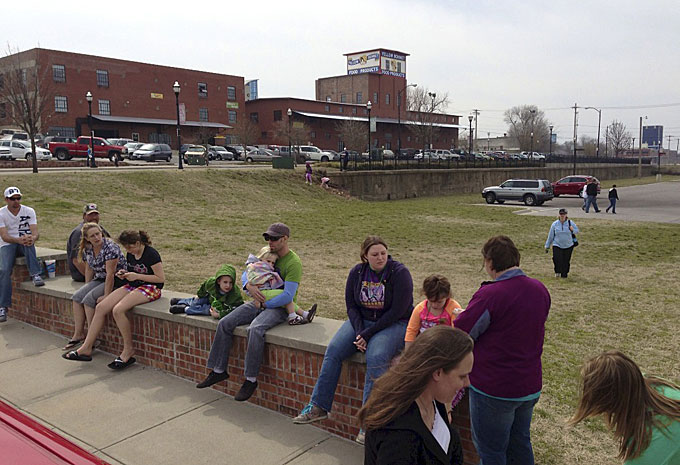 As artists, we see the great potential of using the outdoor space as an extension of the interior space, both as a place for installations and to expand programing to include demonstrations and workshops including ceramics and raku, mosaic creation, fiber and metal work. Collaboration with MSU's Art & Design program located across the street and other local working artists could turn this into an outdoor classroom and greatly increase the variety and richness of installation exhibitions for the interior space.
After sign removal last November, a portion of the exterior was painted white to prepare for outdoor projection projects we are planning in June. In the remaining section of wall, we hope to find funding to install a large overhead door to allow artists to move tools, equipment, people and supplies more easily between the building interior and exterior.
The outdoor space would provide more room for construction and fabrication. Although we have the large store-front windows facing the street that allows the public an opportunity to watch projects in progress, working outside creates a different type of relationship between artists and the public. It creates a place where people feel more free to ask questions and interact or participate.
A creative combination of architectural and artistic elements including some combination of green space, gardens, paving techniques, canopies and sculptural elements would create a multi-use space to serve ideaXfactory resident artists, accommodate small outdoor performances, and be friendly and accessible to students, local business people, and loft-dwellers in the neighborhood. We anticipate during the planned outdoor installations and events scheduled for this spring and summer, artists working in the space will the inform the design process as we move towards a more developed concept.
Standing at the edge of the lot, the panoramas below show the relationship of the ideaXfactory to the rest of the neighborhood. Click on either photo to see larger.


Exterior signs and surfaces
We need a better way to identify the building — which is also in need of fresh paint. In anticipation of upcoming events including hosting a reception for the Missouri Art Educators Association spring conference, the ideaXfactory yarn bombers knitted and crocheted a collaborative installation that acts as a sign. It would be interesting to explore adding an artist-made canopy or other larger exterior installations to give the building a more distinctive appeal.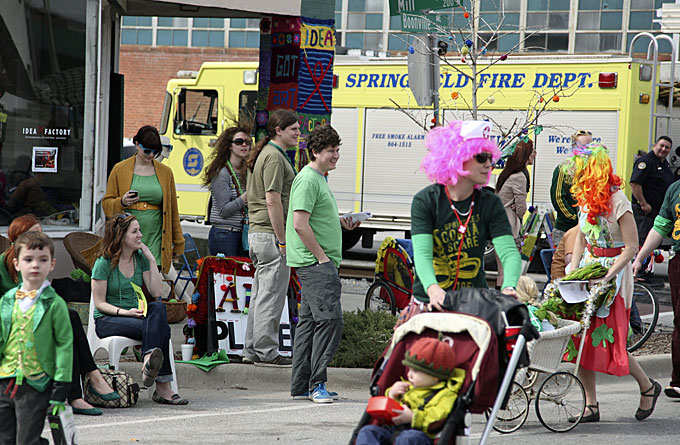 One final note on signs — we find it slightly amusing and heartening that our friendly neighborhood police officers apparently don't mind standing behind a Yarn Bomb sign.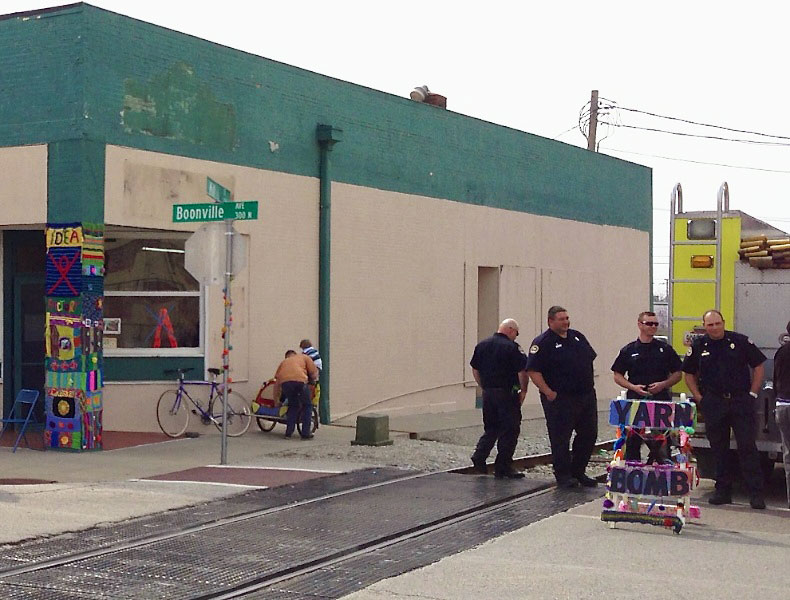 For more fun photos of the St. Patrick's Day parade as seen from the ideaXfactory, check out our Facebook album here.