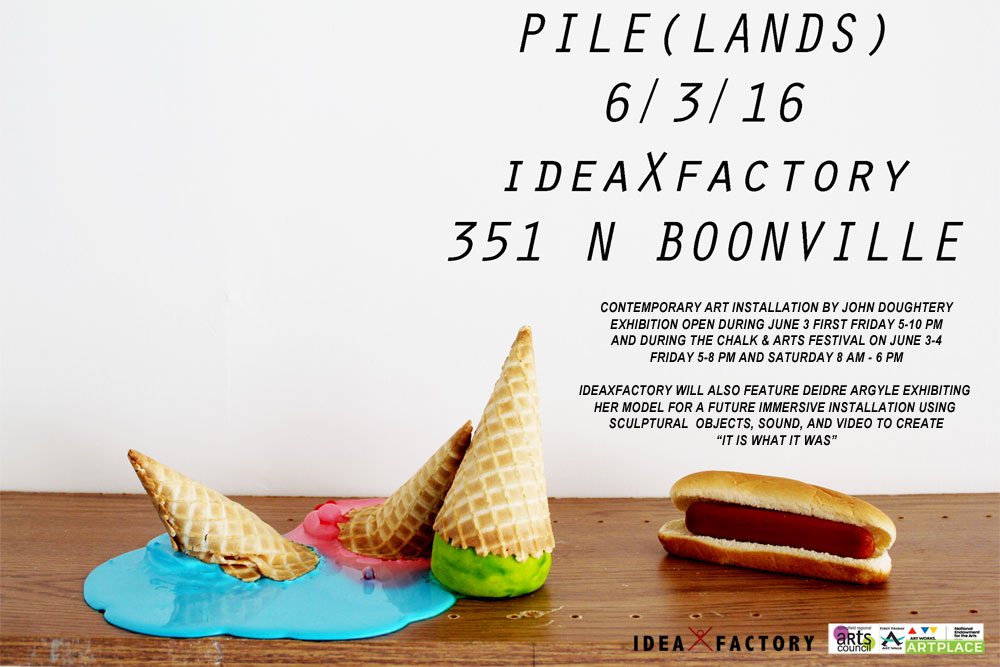 Come visit contemporary art "islands" created using circuit boards, 3D printing, videos, shredded plastic, inflatables, and dryer lint! PILE(LANDS) by John Dougherty explores themes of consumption and waste in playful and humorous ways during First Friday Art Walk on June 3, 5-10 p.m. and during the Chalk Walk & 1st annual Chalk & Arts Festival on June 3-4.
ideaXfactory will also feature Deidre Argyle exhibiting her model for a future immersive installation using sculptural objects, sound, and video to create "It Is What It Was".
Argyle says, "Death has become a somewhat taboo subject in American culture. The reality is that we need death and decay for new life and regeneration. I often wonder, were we more attached to the reality of this cycle, would this understanding let us find more comfort in the unknown? Would it lead to a healthier sense of living now? Would it change how we interact with each other, and place more value on our relationships?
Currently I am developing an immersive installation that allows the viewer to contemplate our life cycle and the greater systems that govern nature by creating objects in a space that maintain a sense of calm beauty while in obvious stages of decay and transformation."
Doughery is an artist who received his MFA in Visual Studies from Pacific Northwest College of Art and currently teaches at Missouri State University's department Art and Design. He creates installations that explore themes such as humor, play, and waste, and his work has been exhibited nationally and internationally at venues including Disjecta, PLACE PDX, Limner Gallery, and the Museum of Contemporary Craft.
Argyle is currently the head of the sculpture program at Art+Design at Missouri State University.