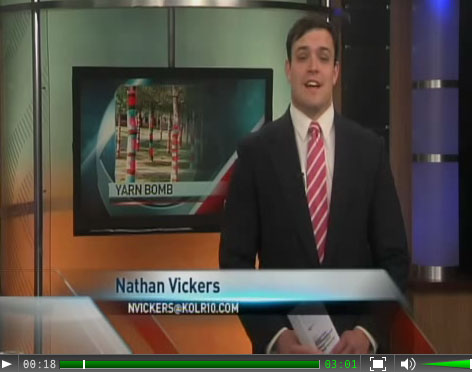 Watch this KOLR10 story about the St. Valentine's Day yarn-bombing of The Tumbler sculpture on the Square. Morning reporter Nathan Vickers came down to the ideaXfactory to watch the yarn.bombers preparing for an afternoon bombing. He was a great sport, even as he got yarn bombed in pink and red hearts!
Nathan Vickers, is the reporter for the KOLR and KOZL morning shows. He grew up in Southwest Missouri, then left area for a few years to finish up with school. Vickers is a graduate of El Dorado Springs High School and Truman State University in Kirksville, Mo where he studying Communications and Music. He also played on the football team and spent a year living and working at the Truman State University Farm.
Before graduation from Truman, he spent a semester living in New York City and interned at the Late Show with David Letterman. After the internship he returned to Kirksville to finish college and took a part-time job at KTVO, the local ABC affiliate. To get more training to work in television, he returned to New York for graduate school at the Columbia University School of Journalism. Columbia's fast-paced master's program sent him reporting all over New York City and meeting people from all over the world.
Nathan's hobbies include playing the French horn or piano, reading a quiet book, or spending time at my family's farm in Vernon County, Mo. He even mentioned that he might come back for a little knitting workshop with the yarn.bombers!