Penny Mateer one of the featured artists in the Sept.-Oct. 2018 eXtreme Fiber Art exhibition at ideaXfactory. She is a fiber artist who lives and works in Pittsburgh and uses the feminine traditions of quilting and embroidery to express her reaction to contemporary political issues and world events.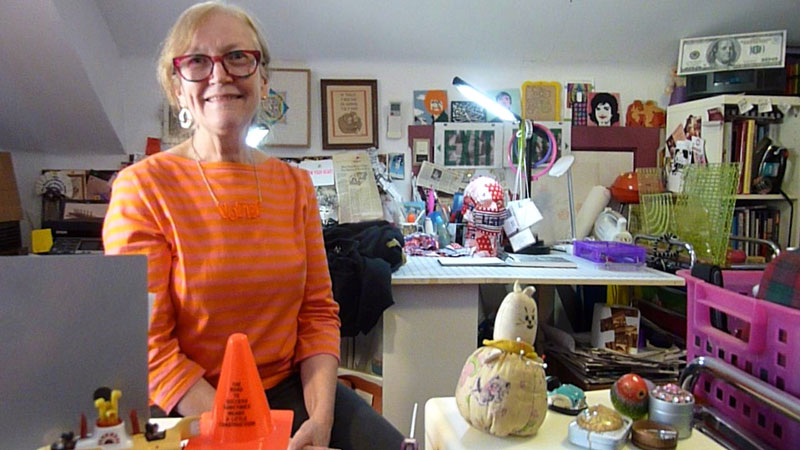 Penny was trained and working as a psychologist in health care before she discovered her love of creating art. She quit her hospital job and became a full time studio artist. Since then she has exhibited widely, was co-director of Knit the Bridge which was a community effort involving over 1200 people to yarnbomb the Andy Warhol Bridge in Pittsburgh in 2013, the largest yarnbomb in the world so far.
In 2014 she exhibited a solo show at the World of Threads Festival in Canada. She is acting as co-director of "Pole-2-Polls" a grassroots effort to put up "Vote" yarnbomb and quilted signs on telephone poles and yarn signs throughout Pittsburgh, was co-director of the national exhibition Art Advocacy Speaks: Art for Social Change, and her collaboration with Martha Wasikwon won Best of Show at Fiberart International 2016.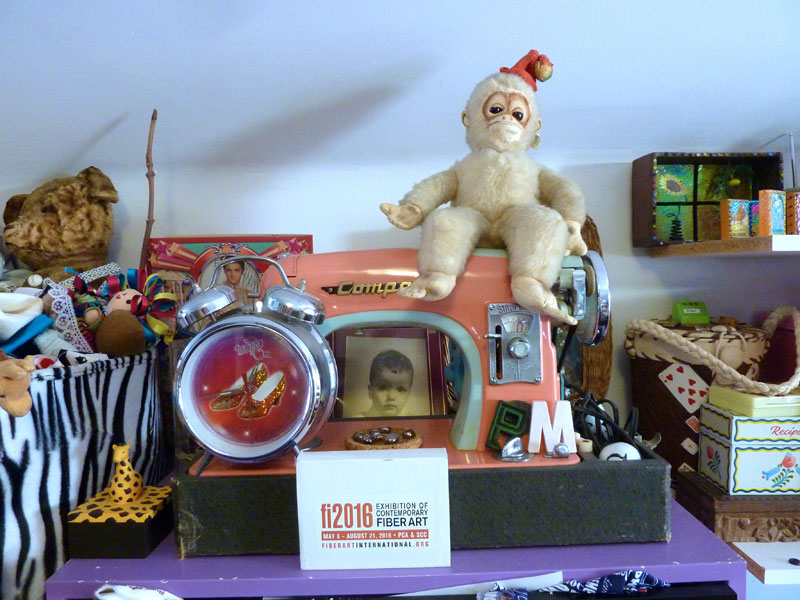 She works in her studio on the third floor of a brick house in an older neighborhood with a lovely hillside water garden with trickling waterfalls in the back yard. As you can imagine, there was lot of art and interesting things to look at throughout the house.
Looking at her small and very organized studio, I was struck by the sense of play and fantastic organizational skills that she uses to arrange toys, vintage items, newspaper clippings, books and art materials in her unusually shaped studio.
This interview by Pam RuBert is from October 2016.
What have you been up to recently? I see from your website and social media that you've been very active.
This year has been crazy. Working on the show Art Advocacy Speaks and trying to do Pole-2-Polls and get these yard signs off the ground at the same time, that was not a good idea.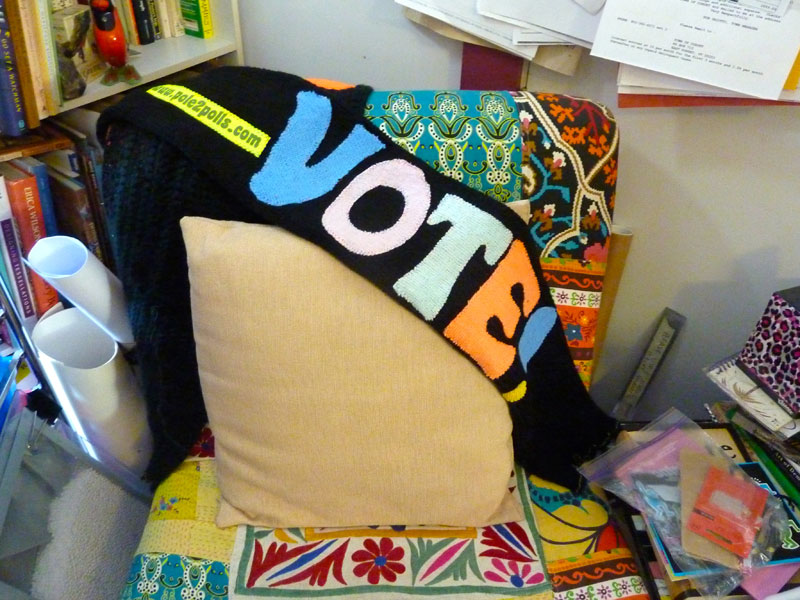 Pole-2-Polls yarnbomb sign made from recycled piece of Knit the Bridge
Here, take a look at the Art Advocacy Speaks catalog. The show came out really good. We put out a call, had a fabulous panel of jurors, Lonnie Graham and Christina Robertson, and we did this great catalog. That was our first attempt at trying to bring artists together, making art for social change. About half the artists were from Pittsburgh or the region, and the other half were from around the country. That ended up taking, as you can imagine a lot of time, because I was hoping my co-director had more time than she ended up having, so that meant there was less time to devote to getting the  Pole-2-Polls yard signs going.  This year's really been interesting, sort of figuring out how to be an artist and administrator and make community projects all at the same time is really hard. (laughs)
Occasionally I made a piece. I'm been trying to work on that one forever (points at her upper design wall), and I finally finished that one (points at lower design wall). And then in the middle of all that we finished a video on Knit the Bridge which we'll be releasing soon.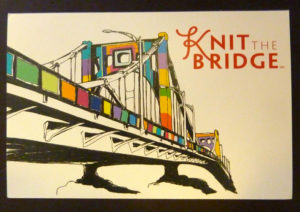 Great, we'd love to see that.
It's about a seven-minute video, and it's really great. So anyway, with Pole-2-Polls, what I figured out is interesting. I think even making a Vote sign, for some people is too political. It's like taking a stand, and they're not comfortable doing that. We're not saying who to vote for, so lots of people say, "That's a great idea!" But I guess what they are saying is, it's a good idea for other people to do. I guess we'll see. We've had a lot of people help and make signs, but it's been much harder than I thought it was going to be.
Maybe part of it is, people need an end goal. They want results. And we've been making this up as we go along, which a lot of people are not on board with because they want results. So it's not a fair assumption to say it's just the signs, but I still think it's too much of a statement for some people to make a Vote sign.
So those kind of projects just take away from the creative energy that I have, and I'm just going to have to stay away from that in the future. Part of it is where I am now and how my art has grown, and also now what's going on in this country — I have to put my creative energies where they are best channeled. I have to stay away from all this administrative stuff because it's competing. It was nice to do it and learn about it and understand it, but now it's time to move on. And I'll be really interested to see what this residency is all about because I've never done one, and I'm very excited.
What residency is that?
This February I'll be doing a residency at MASS MoCA (Massachusetts Museum of Contemporary Art). There's seven other artists.
Are they all working in different media?
(nods) Yes, I have no idea who they are yet. I'll find out when I get there. The way it's set up, we have at least one communal meal a day, and we're each given a studio. At MASS MoCA there's also a Maker's component and a big fibers workspace and component.
So you won't have to take a lot of stuff with you?
No, I'll take my own sewing machine though.
That's kind of a personal piece of equipment. Kind of like your own guitar if you were a musician….
It is — exactly! And I don't know how much sewing I'll be doing, because I'll be working with the collage materials I've collected. I've been collecting photos, and my next piece will probably be about Black Lives Matter. But I know that when I see Nick Cave's installation….. The thing that's really great is that you have unlimited access to the campus. So I can go in and see his installation every day if I want to, and I have no idea what his work is going to spark within me. Because I think his work is just fantastic.
And so complex. You could go back and see something different every day.
Every single day! And it's almost a football field in size. So it will be very interesting to see what comes of that. Because I guess, and I'm sure you can relate to this too, because of all of the other things that we do that are not necessarily in our studio making art, it makes an art residency that much more attractive. To have this notion of a three-week period where I can't, where I shouldn't think about anything else — that's a great thing. It will be interesting to see what that's like, to be immersed in that sort of environment. And also being around a lot of artist who I don't know, and who aren't fiber artists will be great. I'm really looking forward to that.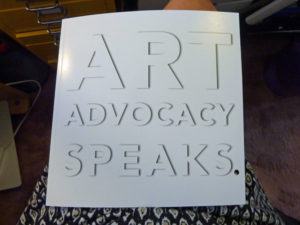 Looking through the Art Advocacy Speaks catalog — artists here have dealt with so many issues that people may not be aware of. But that's what's great about the show.
Exactly. It raises awareness, and has you thinking about things that maybe you hadn't thought about before. And that's what I think art should do. I mean it doesn't always have to do it, but I think at some point that is an important part of art. And I get frustrated because sometimes I don't think that we do that enough. (she laughs)
So is that an important part of your art that you've always had? Or did it develop over time?
It developed over time, and in reaction to going to Afghanistan. The protest series started around 2003 when George W. was up for re-election, and that was when I started the protest series. I haven't looked back since. I certainly did not start with that intention. But I think it's also my social work training, it all started coming together.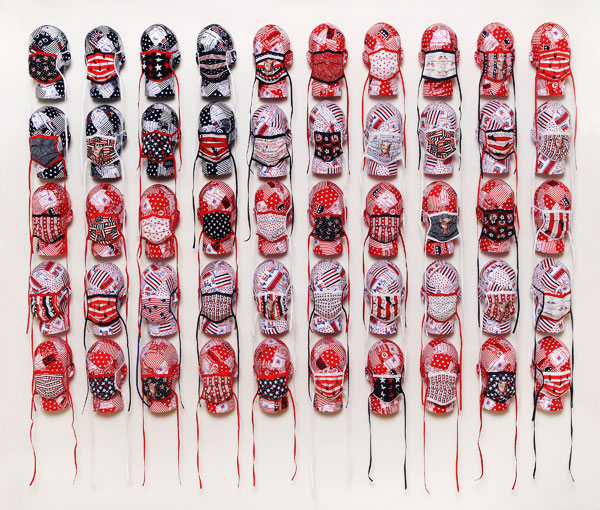 Penny Mateer installation, photo by Tom Fitzpatrick
What kind of  response do you get to your work? Have you ever had a backlash?
The heads have had a backlash. The Society for Contemporary Craft gave me a solo show at BYN Gallery which is downtown, and it's a great space. You walk through it to get from the South Hills T station to get to downtown, so you get all these people walking though who would never necessarily see art. The Society got a complaint that the installation of my 50 heads with masks was un-patriotic and that I was un-American. That was just one comment, but I'm sure there were other people who thought but didn't write. Not personally though, have I received comments, as much as my work has been out there.
Going back to time management, and being an artist, an administrator, a community coordinator, and volunteer for various projects. Have you found any secrets?
I wish I had! (she laughs) I'll say this, when I did Knit the Bridge that was full time. I didn't even pretend.
For how long? Two years?
About one and half years full time. And when I got off the Bridge, I was energized and worked in my studio a lot. And then I crashed. You knew eventually I would crash, and then last winter, I really crashed. I was completely done, I couldn't do anything. So for about three or four months I couldn't do anything. And then I started making quilts again.
For me, once I get back in the groove, it always goes back to the newspaper collages. The one thing I always do every morning is read the news, and then every morning I make a collage from the day's newspaper — The New York Times because they have the best photos. That always grounds me and gets me focused. Of course it's always good for composition. You know a lot of the collages will never see the light of day. They are just made because it's getting me in the groove.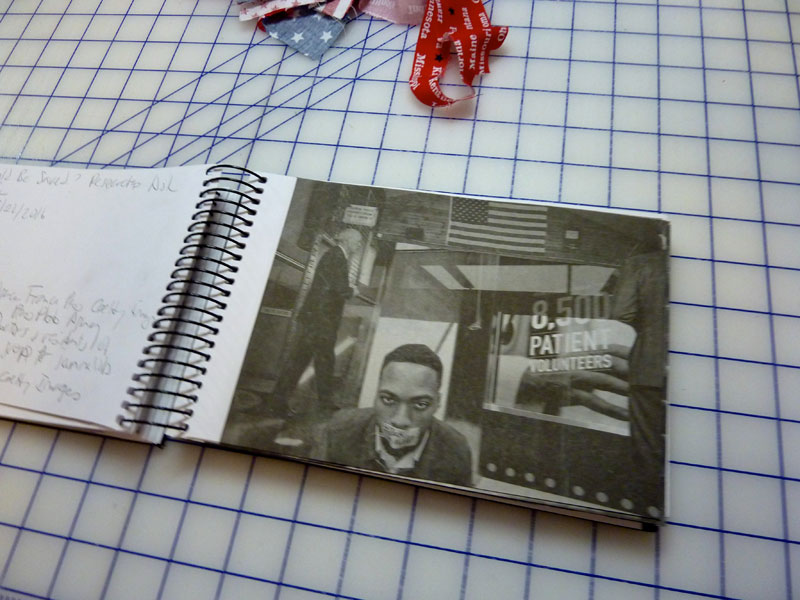 Daily collage from the New York Times
Here's one I printed on a flannel blanket. You never know how they are going to turn out, sometimes good, sometimes not.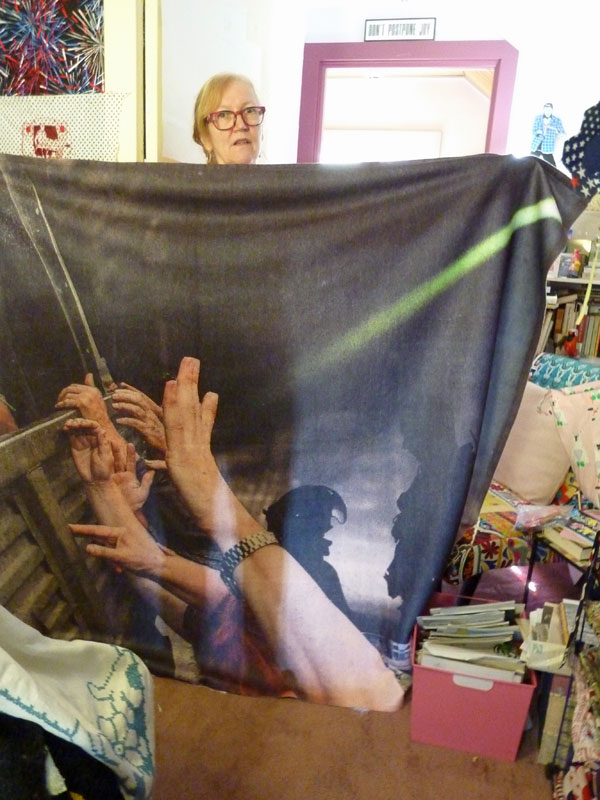 There is such a different feel when you print the collages large. It has a totally different emotional impact.
The other thing is I try to always have several pieces going at once. I always try to have a quilt foundation going, so that when an idea comes up, I'm ready to go. Like when I made a Lone Star quilt, which I'll never do again (she laughs), I had lots of pieces of it going, so when the economic downturn came and there were all these issues of economic inequality, I said, "I've got something for that!"
The only problem is, when you make a Lone Star quilt, you're never supposed to move it because of the fabric bias and how it can distort. So it was all ripple, and it was for the Society of Contemporary Craft, so I thought I can't hang that! But I blocked the heck out of it, and it all worked out ok. So anyway, I always try to have something going, to have something ready.  Here is a pieced background that I'm working on.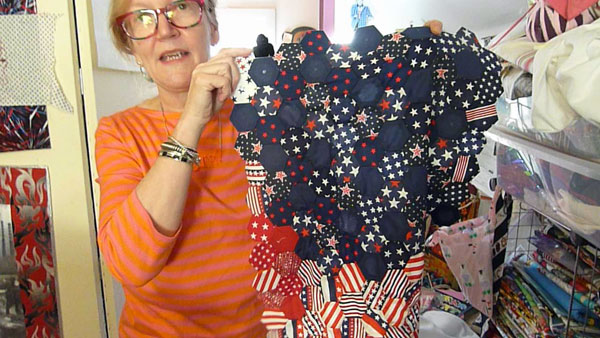 Is that hand-pieced? Like something my grandmother did.
That's what I want. For the political quilts, I want them to look like your grandmother made it. Which is why I picked the Lone Star, and then for immigration, I picked a Dresden Plated because everybody's got that one. I'll never tire of composing in red, white, and blue, stars and stripes.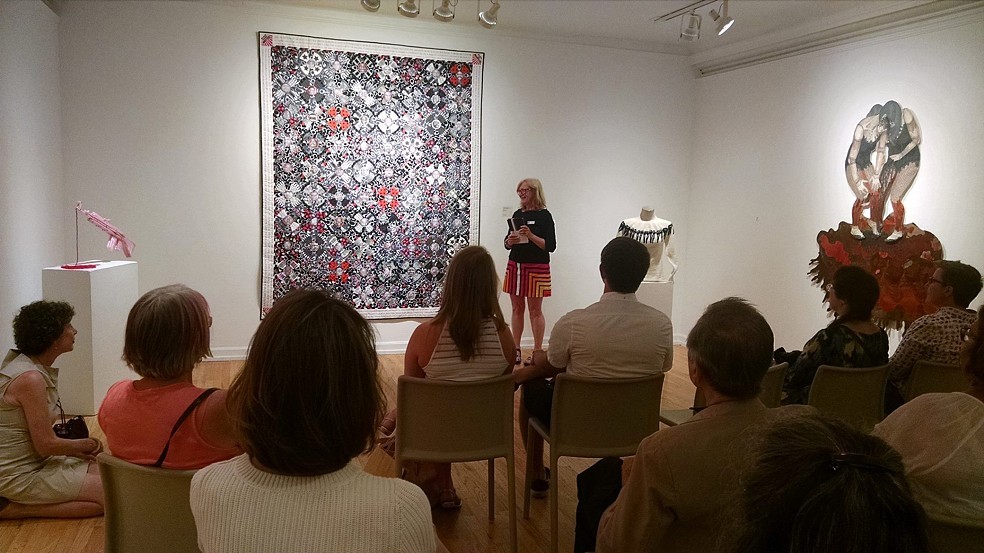 Best of Show at 2016 Fiberarts International 2016 "THIS Revolution Will Not Be Televised: #13 Protest Series," by Penny Mateer in collaboration with Martha Wasik,
photo from Penny Mateer's website.