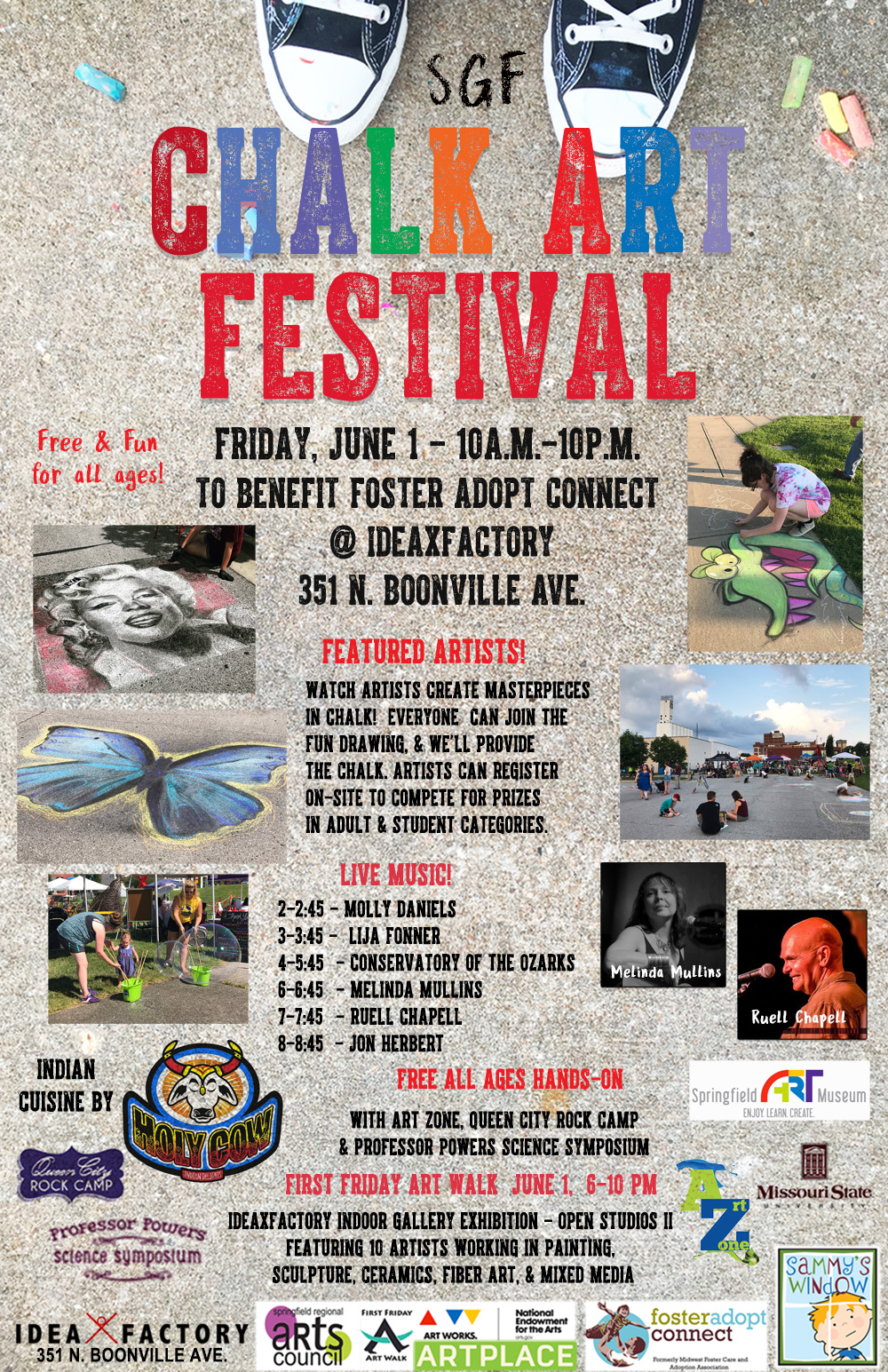 Join the fun as artists create temporary original art masterpieces in chalk on the sidewalks of ideaXfactory at 351 N. Boonville Ave. during First Friday Art Walk on June 1st. Our featured artists will draw live in a broad range of styles - from abstract, portrait and landscape to cartoon and fantasy and include Old Mr. Bones, Dendril, Nathan Gamel, Sarah Hebert, Sarah Jones, Mika Logan, Erin Renee, Katie Rodick, and Christie Snelson
The event will all feature live music by Molly Daniels, Lisa Fonner, Conservatory of the Ozarks, Melinda Mullins, Ruell Chapell, and Jon Herbert  on our outdoor patio between 2-9 p.m. Hands-on fun with Art Zone, Professor Powers Science Symposium, Queen City Rock Camp, and face-painting will start at 3 p.m. Holy Cow Food Truck with yummy food Indian and vegan food. Also just around the corner is the new Bits of Britain Cafe' for coffee, tea, and pasties.
Everyone can join in drawing, and we'll provide the chalk! Prizes will be awarded in both Student and Adult Categories. To compete artists can register at the FosterAdopt Connect information tent, pick a spot and draw starting anytime during the day. Judging will be done at 8 p.m. by ideaXfactory resident artist Lura Faye Cotton who is also the Art Department Coordinator for Springfield Public Schools High Schools and a featured artist in the 2018-2019 Springfield Sculpture Walk.
Inside the ideaXfactory will be the opening of Open Studios II during First Friday Art Walk from 6-10 p.m. featuring artists Dana Campbell Neuenschwander, Sam Mattax, Christie Snelson, Doug Erb, Lura Faye Cotton, Carl Glasemeyer, Sarah Jones, Mikey Yates, David Cogorno, and Josee McGregor. And on the north wall of the ideaXfactory facing Brick City, Sarah Jones will be putting the final touches on her amazing mural!
Once again IdeaXfactory is proud to host the SGF Chalk Arts Festival to raise awareness about great things our partner FosterAdopt Connect SWMO does for our community!

Live Music:
2-2:45 - Molly Daniels
3-3:45 - Lija Fonner
4-5:45 - Conservatory of the Ozarks
6-6:45 - Melinda Mullins
7-7:45 - Ruel Chapell
8-8:45 - Jon Herbert
Featured artists:
Old Mr. Bones
Dendril
Nathan Gamel
Sarah Hebert
Sarah Jones
Mika Logan
Erin Renee
Katie Rodick
Christie Snelson