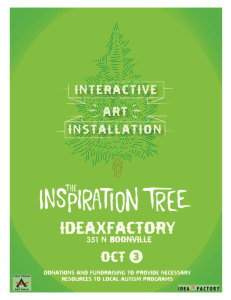 Money doesn't grow on trees, but inspiration can!
Join us on October 3 during the First Friday Art Walk from 6-10 p.m. for an interactive art installation created by artist Cameron Thomas aimed at engaging the community in sharing inspiration through the form of positive messages, art, and other small items that can be hung from a clothes pin.
Everyone is welcome to receive one and leave one. There will be community workstations set up with free supplies, so you can create something unique on the spot!
Please join us at the IdeaXFactory on October 3rd as we freely share inspiration through various art forms and items. Donations will be taken to raise money for Springfield Public School Autism Programs.
Cameron Thomas has worked with individuals with autism for over five years, including through programs at the Springfield Public Schools. This work has given him insight into the way art can become a positive activity — allowing for free expression, exploration of materials, the development of fine motor skills, and can create a relaxing and therapeutic experience for participants.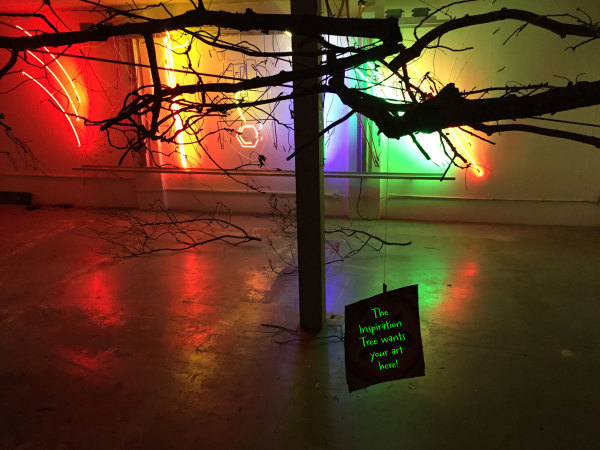 With The Inspiration Tree, Thomas hopes to bring a similar art experience to the larger Springfield community by offering this opportunity to interact and share a memorable experience and to raise awareness about local autism programs.
Inside the ideaXfactory, artist Cameron Thomas is creating an installation made up of tree branches, suspended overhead at various heights. Visitors to the ideaXfactory will be invited to contribute to the installation by adding their own creations, positive messages or art they would like to exchange or give away.
During First Friday Art Walk on October 3, 6-10 p.m., creation stations will be set up and stocked with paper and various materials that will be free for people to use to make something unique they would like to hang from the branches of the Inspiration Tree.