Art of Space returns to the ideaXfactory with a new installation titled Woven Lignin/ Pick-up Stick Pavilion!
Join Art of Space to help create the installation at the ideaXfactory on Saturdays Nov. 16 and Nov. 30 at 10 am, and on Tuesdays & Thursdays Nov. 19, Nov. 21, Dec. 3 and Dec. 5, to participate in the communal process of weaving the sculptural, nest-like Pavilion. Besides providing a great metaphor and vehicle for creating community, weaving space is addictive, and fun for everyone!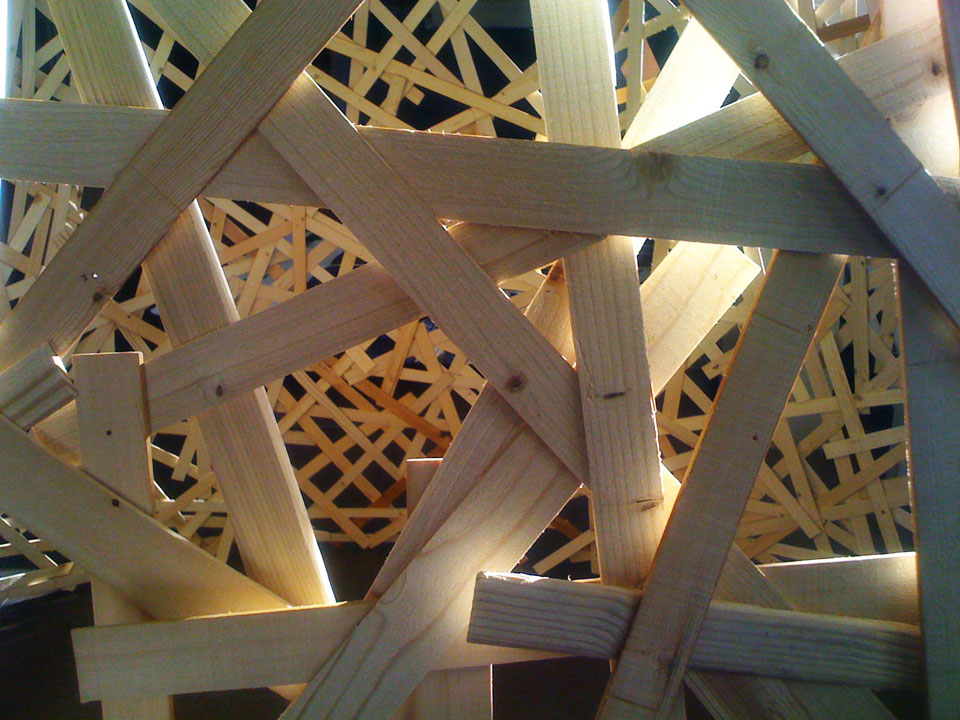 Lignin is a complex polymer in wood that hardens and strengthens the cell walls of plants. The Woven Lignin installation will use the qualities of wood to make a structure of woven wooden slats and coffee stirring sticks held together by friction and the elasticity of the materials.
During December's First Friday Art Walk, the Pavilion will be dramatically lit and serve as a social space dedicated to games of jenga blocks and brightly colored pick-up sticks… Sometimes the challenge of taking apart a pile of sticks is almost as fantastic as putting them together in the first place!
Whether you enjoy basking in allegory, or the neon rainbow of Russ RuBert's Harmonic Wall, the ideaXfactory will brighten your pre-solstice, post-daylight-savings-time night on Dec. 13.
Woven Lignin/Pick-up Stick Pavilion is the newest participatory installation by Art of Space after the creation of Rhizomatic Grotto at the Springfield Art Museum in August.